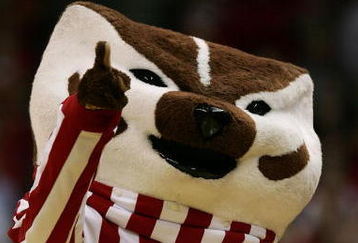 As I wrote last week in the latest edition of "Winks Thinks", college basketball isn't really my forte. But as I also made sure to write about twenty-five times in that edition, I do still get up for the Badgers when they take the floor. That's been no different this season, as I got my first taste of regular season Badgers action Monday night when they were up against Arizona.
The game didn't start until 11pm Bucky time, but thankfully Monday Night Raw was already over so I had no prior conflicts. I'm not really sure what I'm expecting out of the Badgers this season - I think they'll make the tournament, but I'm not sure just how strong they'll be - so I was pleased to see the fast start the Badgers got out to against the Wildcats.
This was one of those typical college basketball starts, where one team gets out to like a 15-2 lead and then it's tied up by halftime. But the Badgers were able to hold strong, and some huge play from my boy Keaton Nankivil and and Trevon Hughes down the stretch
led Wisco to the 65-61 victory
.
The win put the Badgers two victories away from a Maui Invitational Championship, but unfortunately Gonzaga got in the way. Wisconsin made some runs throughout the game, but they were never really close,
and Gonzaga came away victorious 74-61
. The Badgers still have a chance for third place, and they'll go for that against Maryland just a few hours from the publishing of this post. Gametime is set for 3:30pm on ESPN2.
So far, it's been a decent start to the season for Wisconsin, as they played well against Arizona but you can tell they're just not close yet to teams like Gonzaga. An interesting note is that the Badgers weren't predicted to be in the final 65 by Sports Illustrated a week ago, and both of the teams they've played in Hawaii definitely were. Maybe it's because of how tough the Big Ten looks to be this year, but by putting on a decent showing in Maui, the Badgers are on the right track to proving SI wrong.