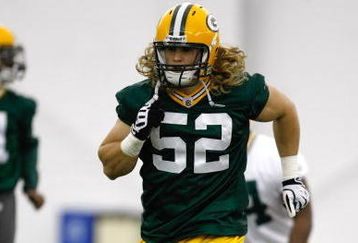 Ted Thompson is notorious for not trading up in the draft, but when he finally did make a move it paid off big time. Clay Matthews has been nothing but a godsend for the Packers defense this season, playing brilliantly in Capers' 3-4 scheme and he's become one of the top rookies in the NFL. Defensively, he actually finished third place in the ROY voting, only behind Houston's LB Brian Cushing (very deserving), and Buffalo DB Jarius Byrd (good, but I think Matthews was more deserving). Matthews finished third despite not breaking in to regular playing time until a few weeks into the season, and had he seen regular time since day one I'm sure that award will be in his locker no doubt.
Despite falling short of that honor, Matthews will still walk away with some accolades from the 2009 season, as he was named to the Pro Bowl on Friday. Matthews was named an alternate when the rosters were announced a little more than a week ago, and has earned a trip after Bears linebacker Lance Briggs decided he'd rather stay home.
Of course, best case scenario is that Matthews chooses not to go as well - not because of injury or anything but because of the Super Bowl which would be one week after. I don't know about you, but I'd much rather see Clay running around with a Super Bowl patch on his jersey instead of one of those flamboyant jerseys they always roll out during the Pro Bowl.
Actually, now that I'm on the subject. I'd like to take this time to announce that we will not be doing our annual Pro Bowl Live Blog this season. If it was the week after the Super Bowl, we would, but unfortunately the NFL moved it to the same weekend as the... WWE's Royal Rumble! Don't worry though, we won't be doing a live blog on that either (unless you want us too? Maybe? No? Okay. But let me know if you do.)