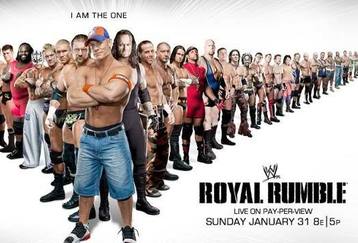 Well, since SportsBubbler is coming to an end, I'll no longer be able to use my weekly Winks Thinks column as an outlet for my WWE pay-per-view predictions. So you know what that means? The predictions will instead appear as their own separate posts right here on The Bucky Channel! Feel free to skip over this post if you'd like...
Women's Championship - Michelle McCool (c) vs. Mickie James - You know, for the most part I'm not very excited about this PPV card outside of the Royal Rumble itself, and this match isn't helping matters too much. This match will get it's ten minutes, and at the end of the day I think Mickie James will take the title. Apparently she was looking to leave the company soon, which I'm not sure about, but I think she'll get the win to avenge for the last two months where McCool has been making nothing but fat jokes towards her. Although Vince McMahon does have a history of embarrassing talent before they walk out the door, I don't think her time is up yet and I see Mickie getting the victory, even though I hate both of these chicks.
ECW Championship - Christian (c) vs. Ezekiel Jackson - There are also rumors that the ECW brand will be changing a bit, as apparently the network that it is on wants to see drastic changes. This is a show that is aired every Tuesday night on SyFy, and apparently they want to see more science fiction built into the program. I don't see that happening, but still it doesn't appear as if the ECW Championship will be around much longer, or at least it won't be on the actual ECW program. ECW did a cool thing by having a lot of it's former wrestlers compete for a chance at this title event - guys like Kane, CM Punk, Matt Hardy, and Jack Swagger - but ultimately decided to give the shot to one of the guys on it's own roster. Zeke could very well be a star someday, but I don't see him knocking off the long-reigning champion in the WWE right now. Christian is ECW right now, and the belt will stay on him as long as the show retains it's current format.
WWE Championship - Sheamus (c) vs. Randy Orton - This match is interesting because it's not often that two heels face each other in a title program (for you non-wrestling fans, heel is slang for bad guy). I'm a big Orton fan, but I think Sheamus is going to keep the strap. Many people were surprised when they actually gave Sheamus the belt over John Cena, but he's been doing a decent job with it since he's had it. Beating Orton on Sunday will give him more credibility as well. Some people think Legacy may actually interfere and cost Orton the match, but people have been thinking that since last August. I think Sheamus wins clean.
World Heavyweight Championship - Undertaker (c) vs. Rey Mysterio - These are two guys that are way over in the WWE Universe, but I don't like either of them. I just can't get into Mysterio, and Undertaker is cool during Wrestlemania, but useless to me the other 364 days of the year. The guy is always injured, he can hardly move anymore, and it seems weird to me that they'd give him a one-on-one with one of the most agile guys in the business. When Undertaker loses this belt, it's going to be in a triple threat match or some other contest where he doesn't have to get pinned, and I don't see Rey winning. It would be a pleasant surprise if Rey did win, although that would be he'd have to then be champion, and I don't want to see that either. Then again, at least he'd actually appear on Smackdown more than once a month. But that would probably mean another match with Batista. No good can come from this matchup.
Royal Rumble -
It's approaching the one-year mark since I started watching wrestling, and I have set to see an actual Royal Rumble event. As jacked as I am for this matchup, I don't think I'm going to be happy with the result. Actually, I don't care who wins this thing as long as it's not one of the following people - John Cena, Batista, Triple H, or HBK. Sadly, I think it's going to be one of those guys that does win, specifically Triple H. It makes sense as far as getting Hunter in a title match at Wrestlemania and continuing with the teased breakup of DX, so that's what I see happening. I think the company would be better off giving the win to someone else, either someone who hasn't had a title shot yet or someone that deserves another one. The guys I'm rooting for are about the same as the guys Rory suggested in the comments: Kofi Kingston, CM Punk, Ted DiBiase Jr., Chris Jericho, John Morrison, The Miz, Jack Swagger. Sadly, Hunter is Vince's son-in-law, and I think this match is already decided. Prove me wrong, WWE.