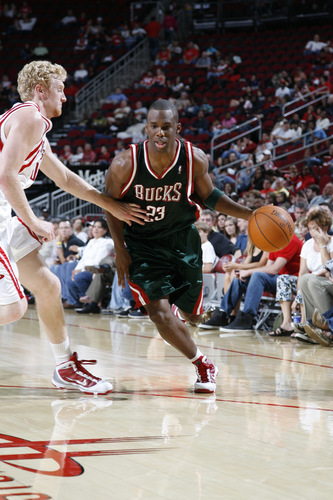 It's pretty obvious that Gweeds wasn't entirely happy with the trade the Bucks made on Wednesday, and I know he's not going to be happy about this one. After shipping Joe Alexander to the Bulls, John Hammond has yet again given up another one of his draftees in Jodie Meeks. Meeks and Francisco Elson (for real this time) are being traded to Philadelphia. In exchange,
the Bucks will get the expiring contracts of Royal Ivey and Primoz Brezec
.
Alright, I have to admit that I'm not quite sure what's going on right now. Do the Bucks hate Meeks already? Are we trying balance the books after we took on the contract of John Salmons with some new expiring contracts? Are we setting ourselves up for another deal involving Luke Ridnour? Do we actually like Royal Ivey? Hopefully we hear something from Hammonds soon, just to get a little idea of what direction he thinks this team is headed in.
The Bucks also received a second round pick in the deal, but odds are Hammond will end up trading whoever we draft there anyway, so that's kind of irrelevant.