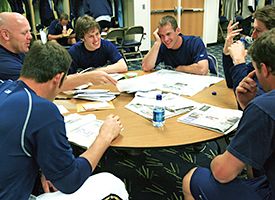 Today is a day the Milwaukee Brewers have been looking forward to for a long time, as it is their only off day during Spring Training. Off course,
Scott

Schoeneweis

has nothing but off days right now
, but that's besides the point - the Brewers are off and they are loving every minute of it.
They definitely deserve an off day after the pounding they gave the Indians on Tuesday, in which they scored nine runs in the first two innings and
won by a final of 10-
2. Jim
Edmonds
did most of the damage collecting five RBI, and his prospects of making the team look better every day. Fellow newcomer George
Kottaras
also had a nice day, going 3-for-4 with an RBI.
That's really all the Brewers news I have for you today, even though I was hoping to bring you the news that Jeff
Suppan
got cut. Every Brewers fan in Wisconsin knows that this guy needs to see the ax, and I'm pretty sure Ken
Macha
, Doug Melvin, and Mark
Attanasio
know it too. But because he's on the hook for $12 million, I really don't see him going anywhere, sadly. Adam
McCalvy
takes a closer look at who might end up being the 4/5 starters for the Crew,
and it's worth a look
. Until we find out though, we'll keep hoping that Jeff
Suppan
can make like
Soctt
Schoeneweis
, in that his summer will consist of mowing lawns and pool parties rather than 162 games of baseball.