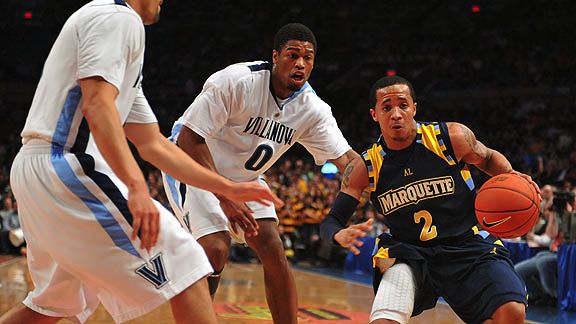 They've lost their last three games against Villanova by a combined five points, including one last year at a very similar stage - the quarterfinals of the Big East tournament. It's been a brutal stretch of games to watch for any Marquette, one that is finally over with the Golden Eagles' 80-76 win over Villanova in this year's quarterfinals. It was another cardiac arrest inducing game for sure, but that's what you've come to expect between these two.
This was a game that was in question all the way up until Lazar Hayward's second free throw attempt rolled off the rim and into the bucket with less than five seconds left. It was back and forth all game long, but still there were times when both teams looked like they could start a run and close this one out early. But these two teams seemed to be destined to have these types of games, and Marquette's experience with close games all season long definitely helped them in this one.
Hayward had another big game overall with 20 points and 6 rebounds, but Marquette's leading scorer was Darius Johnson-Odom. DJO had a career high 24 points, 15 of which came from beyond the arc. A strong game all around, certainly one which should please our friends at
Anonymous Eagle
, a new blog focusing solely on Marquette basketball. These are guys that have been lifelong fans, unlike me who just rides them when they're hot (hey, I'm a Badger guy first).
Next up for the Golden Eagles is a date with Georgetown, as the Hoyas also had a nice upset Thursday afternoon when they knocked off a projected one seed in Syracuse. So it will now be Marquette vs. Georgetown in a semifinal matchup Friday night at 6pm on ESPN.
But yeah, consider me fully on the bandwagon.