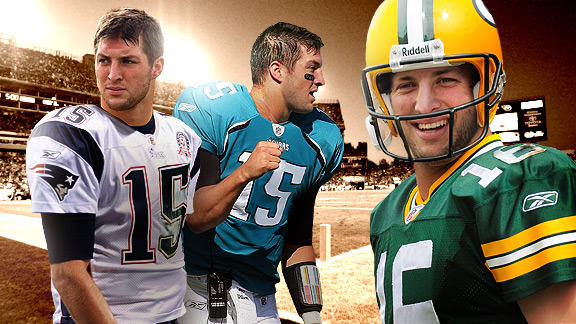 Just when I was starting to like you again ESPN, you had to go ahead
and post a picture like this
(I take that back, I was never coming around on ESPN). But in the middle of Tuesday afternoon you had to go and paste a picture of Tim Tebow in the jersey of the Green Bay Packers. Tim Tebow to the Packers? Is that a draft pick that would even make sense? I mean, obviously, we're set a quarterback for quite some time barring an injury, but could Tebow provide a spark in our nonexistent Wildcat offense (which we would surely end up calling the Gator).
Despite the fact he probably won't get taken until either the third or fourth round, Tim Tebow is the most interesting draft selection of the upcoming draft. In the NFL, he may not work well as a quarterback, running back, or tight end, but he could definitely excel as a mixture of the three, it's all depending on how a given team chooses to use him. Tebow is a great football player, but it's almost to the point with him that you have to build your offense around him instead of just throw him into it.
The question is, would he be a good fit for the Packers? I'm a guy who wanted badly for Michael Vick to be in the Green and Gold last season, so I'm going to say yes. Even though Aaron Rodgers has to be the best mixture of a running and throwing quarterback in the game right now, our offense could also use that element of surprise and the change of pace. Not to compare Tebow to Vick by any means, but when the Eagles finally figured out how to use their "X-Factor" quarterback, they became unstoppable with him for awhile. The same can be done with a guy like Tebow.
I'm a big Florida Gators fan for reasons I'm not still sure of, so I've always had a quiet appreciation for Tebow. I'm not necessarily rooting for him to become a Packer, but then again I'm not really against it. I'll open it up to The Bucky Channel forum. Tim Tebow as a Packer. What do you guys think?
ps - Please at least one person respond, or this article will look embarrassing.