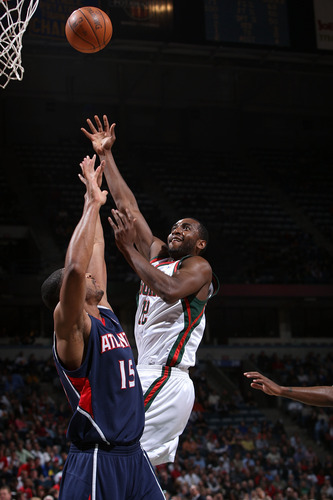 After many long years of waiting, the Milwaukee Bucks are finally back in the NBA Playoffs. Our reward for those many seasons of suffering? A matchup with the Atlanta Hawks, a team that will be predicted to roll all over us especially since we no longer have the services of Andrew Bogut.
Don't tell these Bucks though that they're supposed to lose this series, because they seem just as determined as ever to do some damage, with or without their dominating presence down low in Andrew Bogut. You can probably put away any thoughts of the Bucks winning this whole tournament, but a first round victory over the Hawks isn't out of the question. My gun to the head prediction would be Hawks in six, but I wouldn't be surprised if the Bucks managed to do this thing. Here's a look at when to check out the games for their first round series:
Game 1 - Sat. April 17th - @ Atlanta - 4:30pm - ESPN
Game 2 - Tues. April 20th - @ Atlanta - 6:00pm - NBA TV
Game 3 - Sat. April 24th - @ Milwaukee - 6:00pm - ESPN
Game 4 - Mon. April 26th - @ Milwaukee - TBD - TBD
Game 5 - Wed. April 28th - @ Atlanta - TBD - TBD
Game 6 - Fri. April 30th - @ Milwaukee - TBD - TBD
Game 7 - Sun. May 2nd - @ Atlanta - TBD - TBD
Games 5, 6, and 7 are if necessary of course, and in addition to the stations listed all of the games will be broadcast on FSN Wisconsin. The only exception would be a potential game seven, which would likely be broadcast exclusively on ABC. It's already a crowded month of sports with the Brewers starting back up, the NFL Draft, the NHL Playoffs, and (gulp) the WWE Draft, but we're happy to have the Bucks in the mix. The Bucky Channel crew will be at Game 4 in Milwaukee on the 26th, and it'll be our first Bucks playoff game so we're looking forward to it. Hopefully more of you can attend as well and deliver a good home atmosphere for the Bucks. Time to step it up.