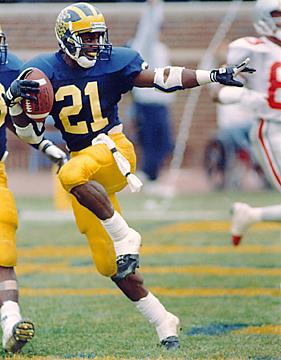 Last Thursday Desmond Howard was named to the College Football Hall of Fame, and when you think about it this guy just always seems to pop up in the news every once in awhile. Also named to the HOF was Barry Alvarez, the former football coach and now Athletic Director for the Wisconsin Badgers. More on Alvarez later, but how would you not want to live the life of Desmond Howard. He played college ball at Michigan, and won a Heisman Trophy in 1991. In 1996 he won the Super Bowl MVP for the Packers. He got a huge contract after that, which allowed him to play as mediocre as possible until 2002 when he retired. ESPN brought him aboard for College Gameday, and he gets to attend all the Heisman Trophy presentations. For as little as he did you sure see his face a lot. Now this is just another milestone in his awesome life, which I wish I had.
Don't get me wrong Desmond Howard was a guy that made plays when he needed to. But for me, having a buddy in High school that loved Michigan made it hard to like the guy. Seeing him score touchdowns in college was awesome, but never let a Michigan fan know that. His ability to return kicks/punts for the Packers is something this this team has never been able to replace. So the guy will always be an icon to me, but just the way he got there, it seems he really didn't do that much. Either way his life is way better than saying "Are you here for an oil change?" (Winks Edit: Ha, agree. But saying are you here for an oil change is way better than saying "Actually sir, limited basic is just your local channels, what you're looking for is actually called expanded basic.")
Barry Alvarez on the other hand has had a successful/long career, and still is having one at Wisconsin. He was one of those coaches that didn't really bring the big name guys into his program, but when they left they had made a name for themselves. He led Wisconsin to three Rose Bowl titles, and finished with a coaching record of 118-73-4 in his 16 years coaching.
The actual ceremony for the induction is Dec. 7, so it is a little ways out. Joining these two are 11 other players and one other coach. Another player name you might know is Pat Tillman from Arizona State. For some more information on the
class of 2010 click this link to JSonline.