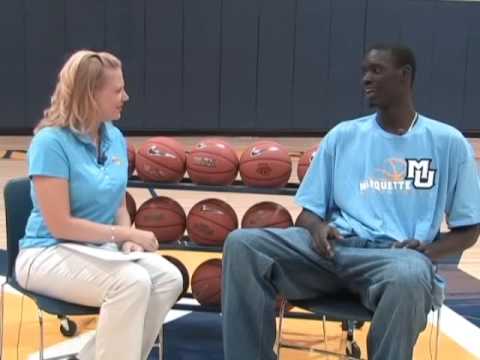 You may have noticed a little more coverage about Marquette this season than we usually provide. Half of that reason is because I was an obvious bandwagon jumper, the other half was Youssoupha Mbao. From the first time I laid eyes on this lanky 7'2'' monster, I knew he was my type of basketball player. You may have missed him if you didn't watch too much MU ball this season, he was usually the guy that was put in with 3.8 seconds in the game to defend the inbound pass, and that was about it.
Actually, Mbao did appear in ten games last season, notching 60 minutes, which is about 55 more minutes than I thought he played. Apparently, we've seen the last of him in a Golden Eagles uniform,
as he's reportedly going to transfer
. I don't care enough about the Eagles to talk about who will fill his spot or what his absence means to the team (if anything), but I do care enough about Mbao that I'm a bit sad today. Oh well, life goes on.