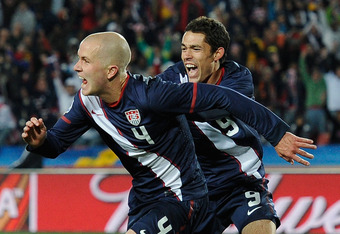 Remember last weekend and the United Stated tied England, and soccer fans were trying to convince you that in this case a tie was as good as a win. Well,
the United States tied Slovenia on Friday afternoon
, only this time it felt more like a loss. I'll get into game specifics and all that in a minute, but first I just have to get this garbage about the disallowed goal off my chest.

Seriously, show me how that does not deserve to be a goal? With the game tied 2-2 and just five minutes remaining in the contest, Landon Donovan hit a perfect ball to Maurice Edu who struck it in to give the U.S. a supposed lead. But just as soon as Edu scored, the goal was quickly disallowed. At first, the screen said that it was an offside call, which is impossible. Then, FIFA's official play-by-play listed it as a foul on Edu, even though he is doing nothing to merit a call. If anything, watch that play one more time, and you will see the Slovenians mobbing Michael Bradley in a far worse fashion than anything that Edu could have even been thinking about doing.
So the goal was disallowed, big deal right? I mean, bad calls happen all the time in sports. But this one is different. The thing about this call is that it's now twelve hours after the game ended, and we still don't know what the call was. You see, soccer officials don't have to come over to the bench and explain their calls like basketball refs, or they don't have to announce it to the entire stadium on a microphone as is done in the NFL. Soccer officials can pretty much just blow the whistle and point a certain way. They have an overwhelming amount of power to really shape a game the way they want it to be played, and trust me, it happens.
When I was a soccer official, I reffed with a gentlemen who would call the game in favor of the team that he thought should win. It was ridiculous how blatantly obvious his tactics were. For instance, I reffed a college match with him where the superior team was having a hard time scoring against the lesser skilled team for the first twenty minutes. If the better team scored, you knew that would open the floodgates and it would be a rout, but the longer they were held scoreless the more confidence the lesser team did have. Then about twenty-five minutes into the match, the ref called a penalty kick against the lesser team, and the superior team scored. It was a terrible call, trust me, and the only reason for it had to have been to "course-correct" the game, if you will. I know that's what he was doing too, because I've seen him do it on many other occasions where he was the main official.
You really have that kind of a power as a referee to do that in soccer. I don't know what happened here, or why the ref, Koman Coulibaly of Mali, decided to blow the whistle. Maybe he honestly screwed up. Maybe he really did see something. Or maybe, which sadly seems to be the most likely reason, maybe he just did not want the United States to win so he called a phantom foul and prevented a goal. I don't know why though he would give the Americans a free kick, only to call it back right away. It doesn't make sense, and the longer he doesn't explain himself the more sketchy it will seem. I'm not asking for a Jim Joyce less confession here, I just want to know what the hell this dumbshit was trying to call. You would that wouldn't be so hard.
So that happened. Really, I can't even watch the highlight of it anymore. Right away my initial reaction was "crap, it was called back", and I reserve excitement, the same way I reserve celebrating touchdowns when I see a flag for block in the back get thrown against the Packers. But I don't think I've ever felt this sick about a poorly executed call in my life. Even though, as I'll explain in a moment, this call didn't make or break our World Cup, it's just astonishing that it occurred, but even more astonishing that we still don't know what the call was.
This moment was just was of the many moments that happened on a roller coaster of a day. First, the United States found themselves down not one, but two goals to a team that they had to beat. Landon Donovan said himself that if they didn't beat this team they didn't deserve to be in the World Cup to begin with. Then, Donovan quickly scored to kick off the second half with a perfect shot from about five yards away from the net, even though he had zero angle to work with. The United States would then have plenty more chances before Michael Bradley chipped in a perfectly placed header from Jozy Altidore, and the United States somehow came back and tied this game.
So not only did we feel dejection that our World Cup hopes were likely over, but then we felt jubilation to have come back and actually tied this thing up, keeping hopes alive. AND DENNNN (terrible Dude, Where's My Car? reference) we got robbed of a game-winning goal by Edu, and we were left with what could only be described as a feeling of emptiness. Happy and sad at the same time is an odd emotion, and that's where we were at this afternoon.
But then England tied, too.
England 0, Algeria 0
Two schools of thought here. First, oh my God thank you England for being even more disappointing this World Cup than the Americans can be accused of being and keeping us alive. Second, well crap, maybe beating Algeria is not going to be as easy as we thought. England did in fact make a keeper change, and the clean sheet would suggest it worked, but really I didn't see a lot of good scoring chances by either team. Wayne Rooney hasn't been the superstar many expected him to be, and English fans have to be in almost as much of a state of shock as we are. But still, both of our countries have a chance to advance to the next group, with the most desired situation being a win from both countries.
Here are all the scenarios of how each team can advance
.
Serbia 1, Germany 0
Almost overshadowed by all the Group C nonsense was the fact that Germany lost in group play for the first time since 1986. A red card to Miroslav Klose in the first half doomed the Germans, and then the even more unlikely happened when Lukas Podolski missed a penalty kick in the 60th minute. This puts Germany, Serbia, and Ghana all tied at three points on top of the group, although Ghana has yet to play it's second game. Other observations from the day:
* It wasn't just that one call that has people flying off the handle about Coulibaly, he was a terrible ref the whole game. After a ball hit U.S. forward Robbie Findley in the head, the Mali ref thought that the ball hit Findley's hand and he gave him a yellow card. That's Findley's second yellow of the tournament, which means he will miss the game against Algeria. Lame.
* Even though he plays with the mentality of an NFL wide receiver (not a compliment), Jozy Altidore came through big in this match. Defender Oguchi Onyewu, did not, as was the defender chosen to be subbed out when the U.S. needed another attacker.
* Awesome to hear the American fans in attendance today. They truly made it seem as if that game was being played on U.S. soil.
* Looking from Slovenia's side of things, how disappointing for them that they blew a two-goal lead. A win would have clinched their birth into the round of 16, and left us and the English fighting like dogs for the second spot. Now they must get a result against England, a team that has to be looking like they'll have something to prove.
* No question, Landon Donovan is the best player America has ever had.
* I love soccer.