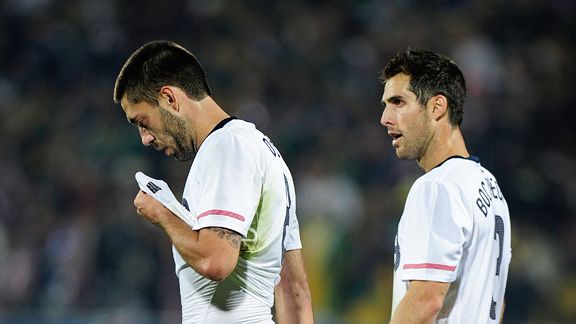 Alright, so maybe I'm overreacting with the title here, but what a heartbreaking loss it was for the United States on Saturday. Even though the circumstances were different, the result was the same - a 2-1 loss to Ghana has eliminated the United States from the World Cup.
I know that once things settle and I look back at this World Cup I'll remember it for how miraculous some of the things that happened to the USA were, and that it was a great time where the nation really started to rally together around this team. From the Clint Dempsey goal against England, to the Slovenian comeback, to the Donovan goal in extra time against Algeria, it really has been quite amazing what has happened to and for this team. But the fact remains that even with that, even with all the luck on our side, another team I root for not only has their run come to and end, but it ends in heartbreak.
For many of you, watching this game may have been a decent way to spend an afternoon, but tomorrow you'll be back in your regular sports mode where soccer is on the backburner. But for me, soccer is a big deal. This national team is a big deal. Watching them try to improve their position in these World Cups every year since 1994 has been a big deal for me, and it's just gut wrenching to watch the Americans exit a little earlier than they should have, again.
In 2002, there was a non-called handball in the box by the Germans, but it went undetected and the Americans were sent home. In 2006, it was a disappointing loss to Ghana that kept us from advancing out of group play, losing because of a unquestionable penalty kick that was awarded to the opposition. This year, it was the fact that 120 minutes was just too much for these team, as they had already been pushed to the brink both physically and emotionally. In every one of these Cups though, the U.S. could have done better, and I keep waiting for the Cup where they do in fact do better. This year just isn't the year.
It makes me wonder - as all heartbreaking ends often do - why I even root this passionately for this stuff. The Packers loss to Arizona left me in shambles, and that's pretty similar to how I feel today. There's just a feeling of emptiness, a feeling of frustration, a feeling of wondering when all this fan heartache is going to finally pay off with a championship of any kind. As stupid as it sounds, it's hard being a sports fan, especially when you really do put a lot of your own emotion into the battles that someone else is fighting for you. It's a strange phenomenon really, how affected we are by sports.
But if I'm feeling this way, God knows how the players are feeling. Even though it's one and done in the knockout stage, you really have to be proud of these guys. They fought hard, came back to tie the game, and ended up running around a soccer field for 120 minutes, just one goal short. Hopefully people realize how special this team was, instead of retreating back to pissing all over soccer again.
The game itself started just like any other typical U.S. game as of late, as they gave up an early goal when Kevin-Prince Boateng scored in the game's fifth minute. It was a goal that had many questioning the starting nod to Ricardo Clark by Coach Bradley, and why Bradley didn't go with the lineup that looked so strong against Algeria. The defense was cut up on the play, the ball squeaked past Tim Howard on the near side, and the Americans once again found themselves needing a comeback.
They were granted with one when Clint Dempsey was ripped down in the box, setting up a penalty kick for Landon Donovan. Donovan barely made this kick, using the inside of the right post to guide the ball into the back of the net. At that point, the U.S. was in control of the game, and they had plenty of chances to take the lead. But just like the first ninety minutes of the game against Algeria, no matter how good the chance the U.S. just couldn't convert.
With the game tied at one and the final whistle blown, the stage was set for extra time. Thirty more minutes were to be played, no matter what. If the game was still tied, we were going to the penalty mark. But again, Ghana found a way to shred the defense and score early, as Asamoah Gyan somehow was able to keep his balance and lift a ball just over Howard. From that point on, the Ghanaians used every time-wasting tactic in the book, but it didn't matter. This game was over from the moment that ball hit the net, and the U.S. just didn't have anything left in them to comeback once more. There were some chances late, but when you run out of gas you run out of gas, and the tank was empty for Uncle Sam.
This wasn't a team that was going to win the World Cup by any means, but they did have a great opportunity to at least make it to the semifinals and play on the final weekend of this World Cup. Ghana will now take on Uruguay (winners over South Korea) in the quarterfinals in what has to be the weakest quadrant of this tournament's knockout round. Both teams are deserving, for sure, but both could have been beaten by the United States. Especially Ghana, although they were ready to capitalize when they had opportunities while the United States could not.
In the next couple of days, Bradley will be questioned for his lineup, I will be questioning why Jozy Altidore thinks he's a wide receiver instead of a top striker, and people will go back to not caring / hating soccer. Things will revert back to normal, and you won't hear from this sport again until the 2014 World Cup in Brazil.
In the next four years, the United States better hope the young guys have learned from this experience while grooming new members to step in, because one of these times we can no longer be waiting for a future where we are a soccer powerhouse. We should have the team that wins a game like this, and we should have the type of team that is playing after this weekend. We need to do everything in our power to make sure we keep developing players and building the sport. Because soccer in this country is never going to be more than a four year event until we have a team that can consistently make a deep run every four years.

Thank you though, to all of you that have hopped on the bandwagon. You may all now return to your normal everyday activities. I'll be in the corner crying, waiting for the heartbreak to pass.