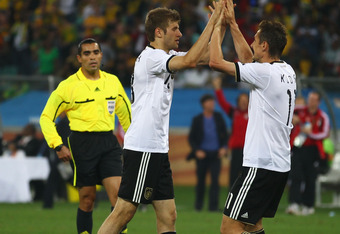 Slovenia 1, Algeria 0
I really did want to get up for this game at 6am this morning, but when you go to bed at 4:30am you can all but rule out that from happening. After the U.S. tied England, this result had huge implications because if either team won they would take the lead in Group C. The hope for us was that these two teams would tie and level the playing field all around, but Slovenia got the victory. The game was scoreless until the 79th minute, when Robert Koren was able to put on into the net. Things opened up a big for the Slovenian attack after an Algerian hand ball in the box sent one defender off with a red card. All Slovenia really needs to do now is get a point against either us or England, and they could be on their way towards advancing. I'm actually quite worried about a let down for the Americans when we play them on Friday, but hopefully we can take care of business.
Ghana 1, Serbia 0
The second game of the day followed a similar format to the first game, as the two sides played scoreless until another red card changed the pace of the game in the 74th minute. Serbia's Aleksander Lukovic was sent off and then the officials sided with Ghana even more ten minutes later, when Ghana was given a penalty kick. Asamoah Gyan converted the shot and Ghana became the first African country to win on African soil in a World Cup. It was a moment that really united the entire continent, although a terribly upsetting afternoon for the Serbs. Ghana should have a pretty good shot at qualifying, Serbia looks to already be done.
Germany 4, Australia 0
Honestly, if I would have been sober enough to drum up some predictions last night I think that I would have gone with 4-0 as a final outcome in this game. Australia looked pretty weak in their tune up against the Americans last weekend, and Germany took full advantage of their opportunity today scoring right away in the eighth minute. Germany got goals from familiar names in Lukas Podolski and Miroslav Klose, as well as Cacau and Thomas Muller. The u in his name actually has umlauts over it, but I'm not sure how to do that. Regardless, Germany looked very strong and I see a deep run for them this month.