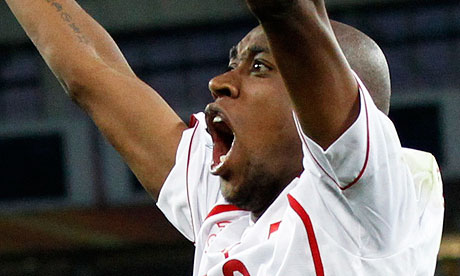 Chile 1, Honduras 0
Chile hasn't won a World Cup game since they lasted hosted this tournament, which was nearly 50 years ago back in 1962. But that mark was cleared today as they knocked off happy-to-be-there Honduras after a goal from Jean Beausejour put the Chileans on the board in the 34th minute. Despite the winning drought, the right team did win this game as Chile outshot Honduras 22-7. It was nice to see some wins finally today, as this World Cup has had more ties than a Father's Day sale at J.C. Penney's (REILLLLLLLLYY!!!!!)
Switzerland 1, Spain 0
Make no mistake, this result is remarkable. Spain was the odds-on favorite to win this tournament, and they still could, but this is a terrible start for them as they start that quest. Spain is slowly but surely turning into the Chicago Cubs of international soccer - no matter how much promise they may show, or how good they are on paper, they always crumble in the end. This is definitely a regrettable game for the Spaniards as they outshot the Swiss 25-9, but more regrettable for just how insane the actual goal was. Swiss attacker Eren Derdiyok crashed into Spanish keeper Iker Casillas and tumbled over him, but while he was in mid-air the ball somehow stayed connected to his feet. Once loose, the ball found Spanish defender Gerard Pique, but Gelson Fernades of Switzerland was able to take it away and buried it into the net.
It was an improbable goal, but what might have been more improbable was the fact that Spain never was able to answer. Even those that doubted that Spain would win this tournament never would have imagined them to lose so quickly. The fact is, no team that has ever lost it's first game has ever won a World Cup, and only three teams have won the title after losing any match at all. Spain can still turn it around and win this thing, as their group is not that strong, but this was a huge blow for them. As for Switzerland, they were just blessed with a chance they would have never expected. It will be fun to see Switzerland try to hang on for advancement, and to see if Spain can overcome these newfound odds.
Uruguay 3, South Africa 0
Well, so much for my prediction that the host team could upset the world and move past the round robin stage, as they were unable to turn an emotional evening into a victory. Instead, things turned more on the side of embarrassment as Uruguay put three on the board, including two from Diego Forlan, who became the first person in this World Cup to score more than one goal. For all of those looking for a way to quite the vuvuzellas, just make sure that you score on South Africa, because I haven't heard the World Cup this quiet since it started. Nice win for Uruguay as they put themselves a notch ahead of France and Mexico, two teams that square off tomorrow.