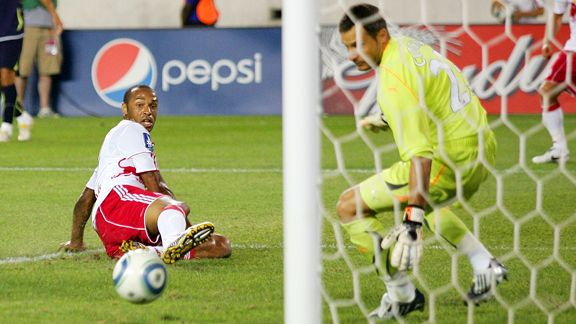 As a soccer fan, I like to see when people who don't care at all about the game get into it if only for the World Cup. I actively root for the growth of soccer in this country, and even though that couldn't be happening any slower it's nice to have the opportunity every four years to actually root with other people instead of sitting alone cheering by myself. And even though I enjoy soccer more than the average American, I'm not that much different, because like them my interest in the game picks up every four years as well.
I'm always up for the World Cup, but I've also been a fan of the MLS ever since it's inception. Clearly, it's nowhere near the level that the top leagues or even the second level leagues in the world are, but it's something that Americans can be proud of and I've had a good time watching the league grow over the last fifteen years. Ever since the World Cup ended though, I've become a diehard for the league once again, catching a part of every single game that has been on TV since the Cup started.
On Thursday night I knew that I was getting deeper into the league than I thought I would when I decided to watch four straight hours of MLS action. While it could have been classified as my act of rebellion against watching the struggling Brewers, I was more or less watching the action because I legitimately cared. I had a great time watching French star Thierry Henry score in his New York debut, and then enjoyed the spectacle of a thrilling 2-2 affair between the Los Angeles Galaxy and the San Jose Earthquakes. Again, the quality of the league isn't anywhere near where the top leagues in the world are, but the MLS is also better than a lot of people give it credit for.
There's often a lot of discussion about how diehard soccer fans don't like bandwagon soccer fans, but I don't see that to be true. As stated before, I'm always up for hanging out with a bandwagon fan, as hopefully they learn a little more about the game each time. The fans that I actually don't like are the snobby American soccer fans, the ones that won't shake a stick at the MLS because it's an inferior league. The ones who live in the Philly area but won't show up for Philadelphia Union games, but then when the Union scrimmages Manchester United they will come decked out in their Man U apparel. The MLS is not a bad league at all, and I love watching it anytime it's on. But then again, I'm not delusional, and I know it will never be as big here or overseas as I want it to be. In fact, I chuckled and even agreed with Bill Simmons and his
take on the league in his latest mailbag
:
I don't see the MLS ever being bigger than Triple-A baseball in America, which is fine; Triple-A baseball sells out stadiums, works as a feeder system for the majors and remains lucrative. The hook for soccer is the national team, and by proxy, the success of the best American players. And, as [my reader] points out, our players can only get better by playing against the best competition. So if we want to expose fledgling fans to the best possible soccer AND tap into the American/underdog/our-guys dynamic, the following scenario needs to happen: Donovan (the most famous American soccer player ever and still in his prime) needs to play overseas for a Premier League team (let's say Everton, given that it already has Tim Howard); Everton needs to sign two other blue-chip Americans (let's say Jozy Altidore and Michael Bradley) and turn itself into America's Overseas Premier League Team; then, ESPN needs to sign a deal to show every game live for this team -- and create a "Hard Knocks"-type show about a season in the life of this team.
While that is probably less likely to happen than and MLS game getting higher ratings than Monday Night Football, it's a solid stance that the MLS hopefully recognizes that it will never be the world's top premier soccer league, just like European basketball leagues realize they'll never be the NBA. I think the MLS does realize that though, but is still doing the best job they can to be successful.
The problem with MLS isn't that it can't market itself to the non-soccer fan, but that it hasn't yet become appealing to the "snobby" fans that only care about European soccer and the Premier League. I realize why someone would love a team and root for a team that is based overseas, but I wish they'd also help give the MLS a bit of a stronger foundation. To me, it seems like if you like Premier League and are willing to wake up on a Sunday morning to watch a game on ESPN2, you'll never be the kind of person that will watch MLS on a Thursday night. My gross generalization here is that if the people that liked soccer in this country watched the MLS, it would be a lot better for the game in this country. Although according to TV producer Michael Davis,
also via the Simmons mailbag
, just the fact that anyone likes the MLS at all shows that soccer is gaining traction in America:
There are even people who watch Major League Soccer. And that may be the biggest miracle of all. And the biggest proof that soccer must be going somewhere here. It's like Daniel Kellison's [former executive producer of 'The Man Show' and 'Jimmy Kimmel Live'] heterosexuality test: Any man can have sex with a model, but only the most heterosexual of men can bring himself to have sex with a truly unattractive woman. The fact that American soccer fans can sit through 90 minutes of MLS is proof of a love of soccer beyond anything the rest of the world can possibly fathom.
In short, with the Brewers struggling more and more and my interest in soccer continuing to grow, I imagine myself watching as much soccer as I can in the coming weeks. That, or continue to watch the Brewers, which seriously when they are struggling the games turn into nothing more than a three month commercial for Rock's fantasy baseball camp.