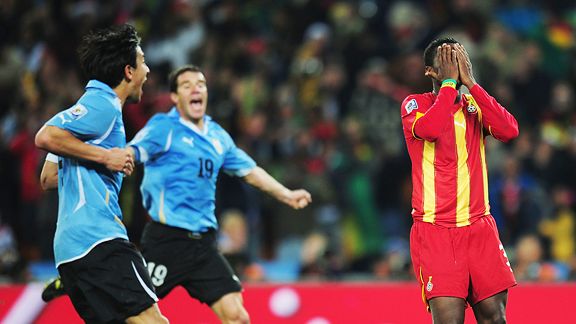 Netherlands 2, Brazil 1
At first glance, this could be considered a major upset, but when you look a bit closer you'll realize that the Netherlands are one of the hottest teams, if not the hottest, in all of international soccer. Not having lost a match since late 2008, the Dutch know that they can hang with anybody, and they did that on Friday as they knocked off the soccer world's greatest superpower in Brazil. It wasn't easy, and it may not have been expected, but it was achieved (and here's the obligatory reference to them keeping the
Unofficial Football World Championship
).
It didn't look too hot for the Dutch right off the bat as Robinho scored off a perfect pass from Felipe Melo in the 10th minute to put Brazil up 1-0. They took that lead with them into halftime, but once they came out of the locker rooms the Dutch went on an absolute mission. They benefited from a fluke own goal in the 53rd minute to make things even, and then took the lead in the 68th when Wesley Sneijder put one in with his head. After that, it was time to play defense and the Netherlands were able to do that for the next 22 minutes, and they're in the semifinals for the first time since 1998.
I like this result because I've been high on the Dutch all tournament and my dream scenario at this point is a Netherlands/Argentina final. But I hate this outcome because it just makes me realize how great of an opportunity the United States had to make it to the finals of this tournament. A win against Ghana could have been followed up by a win over a shaky Uruguay, and then the Netherlands would have been a formidable yet beatable opponent. The U.S. really blew an opportunity that they may never get again, and it is killing me to write these words. I've always said that I go Packers, Brewers, Bucks, Badgers in terms of how much I care about my favorite teams, but I'm realizing now that U.S. Soccer is right up there as well. I'm still not sure where I put them in that group, but feeling the pain that I've felt because of this team this year makes me realize that they mean a hell of a lot more than I thought they did.
Uruguay 1, Ghana 1 (Uruguay wins 4-2 on PKs)
As it was unfolding I couldn't believe it myself, but I found that I really did not want Ghana to win this game. I would compare the level of how much I did not want to see Ghana win to such instances as the Giants winning the Super Bowl against New England, Brett Favre and the Vikings taking on the Saints for a Super Bowl bid, and when the Cubs played a playoff series against the Dodgers in 2008. The U.S. loss left me heartbroken, and I did not want to see Ghana get further than they already had. With every move that Ghana would make, I would envision that being our very own boys from America and it's just something that I could stomach no longer.
Thankfully, Ghana lost this matchup, and because it was in the most heartbreaking of ways I found it even more awesome. Ghana and Uruguay were tied 1-1 heading into the 120th minute, when Ghana started to really put the pressure on the Uruguay defense. After a free kick, the ball was deflected around the box like a pinball and finally it was headed into the net for a last minute Ghanaian victory. But that would not be the case, because Luis Suarez had what turned out to be the most brilliant red card ever after he literally swatted a ball away instead of having it go into the back of the net.
What happened next might be one of the most favorite sports moments of my life. You see, for some reason, I really, really hate Asamoah Gyan. He's one of those guys that I don't like just don't like for reasons I can't explain. Maybe it's because of how he looks, maybe it's because of how he danced to the crowd after he scored the game-winning goal against the States, maybe it's because he seems like a prima donna of sorts, I don't know, but I just don't like him. And when he somehow missed a penalty kick with zero seconds left in extra time, well I'll tell you, that made my whole world.
With the miss, the game was to be decided on penalty kicks, and both teams traded a pair before things started to get interesting. Uruguay's Fernando Muserla made a big save, and then Uruguay buried another shot. But then a Uruguay miss over the crossbar gave Ghana hope, only to have Muserla come up with another big save. That left Uruguay in a make it and you win positions, and Sebastian Abreu delivered with the most gentle of kicks into the net to send Uruguay to the semifinals for the first time since 1970. Growing up as a sports fan, I never thought that a soccer game between Uruguay and and Ghana would mean so much to me, but alas, it did.
I'll have my predictions for the Netherlands vs. Uruguay next Tuesday, but OMG do the Dutch have a clear path to the finals at this point.