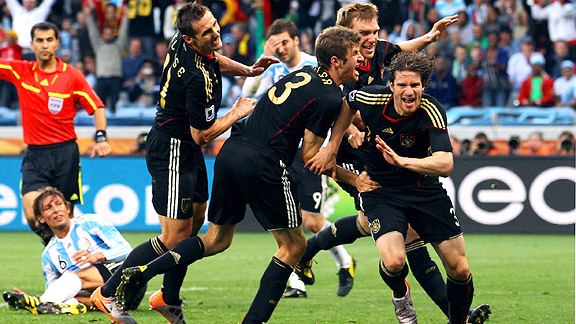 Germany 4, Argentina 0
Yeah, so, didn't see that one coming. After the U.S. went out I quickly switching my front runner to that of Argentina, and with Diego Maradona at the helm and the world's best player Lionel Messi running the attack, I figured I was in pretty good hands. Oh, but how I underestimated the Deutsch attack, as the Germans flat out embarrassed a soccer superpower for the second straight game. First, they dismantled the English, and now, it was Argentina's turn.
Before you may have even turned on your television to watch this game, Germany was already on the scoreboard as Thomas Muller put the Germans ahead 1-0. They were unable to find the net a second time in the remainder of the first half, although they did have plenty of chances, basically dominating the Argentinians at every turn. Miroslave Klose put an end to the drought in the 68th minute, and added another goal later as did Arne Friedrich, and the Germans won 4-0. At this point, they have to look like the favorite, especially with how potent their offense has proven to be.
Spain 1, Paraguay 0
What a weekend it was for the World Cup, and this game might have been the most exciting of them all (actually I still say it's the Ghana loss, and I will admit that I watched their PK miss over and over while drunk last evening). After very little of note happened in the first half, minus a Paraguay goal that was ruled offsides, the fireworks were lit once the second half started. In the span of two minutes starting in minute 59, each team was given a penalty kick and each team missed. We haven't seen two keepers save penalty kicks in the same game since 1930, and for it to happen in a span of two minutes was all the more rarer.
It seemed at times that no team would ever be able to bury a shot, but that finally changed in the 83rd minute when David Villa finally found paydirt. It didn't come easy though, as his shot was actually a rebound off of a shot delivered by a teammate. Villa's goal didn't come easy either, as it needed to hit off the post before it would finally enter the shaded area, and Spain went up 1-0. For being the favorites coming into this tournament, they haven't played as well as you'd expect them to, but they in the semifinals, although a huge match with Germany looms.