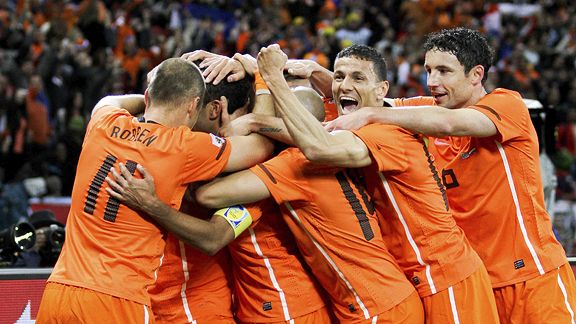 After a World Cup that was highlighted by the culture of Africa and the dominance of the South American teams, the final match is going to come down to two old standbys from Europe. The Netherlands have earned a birth to the World Cup Final for the first time since 1978 after beating Uruguay 3-2 on Tuesday. The Dutch have never won a World Cup Final, losing to both Argentina in '78 and the Germans in '74, and it's quite possible a rematch could be looming against the latter.
Of the four teams left in the tournament, Uruguay was definitely the Cinderella story, and their goodwill ran out at about the 18 minute mark in this contest when Giovanni Van Bronckhorst hit a beautiful shot from about a thirty yards away. It was a shot that went just off of the Uruguay keeper's fingertips and then connected with the right post to deflect into the net, a shot that I'm not sure any keeper in this tournament would have been able to stop.
Diego "All About Steve" Forlan would equalize things for Uruguay in the 41st minute, and he really has been one of the stars of this Cup. Once Uruguay tied things up it became apparent that they were looking to keep this game tied for as long as possible, even if that meant taking the game into penalty kicks. Uruguay was clearly the weaker team, and playing defensive is a standard tactic for teams who know they are outmatched. The Dutch finally broke through in the 70th minute when Wesley Sneijder scored, and then Arjen Robben extended the lead just three minutes later. Uruguay would put one in very late, but this match was over, and the Dutch are moving on (Uruguay isn't going home yet though, they'll play in the third place match on Saturday).
Going into this game I thought that Uruguay could have won, but to do that they would have had to score quick and then go defensive the rest of the way. That just didn't happen. Once the Dutch got on the board first the entire outcome of this game changed, and even though it wasn't their best performance it was enough to get them to the Final, and clearly, they deserve it. They haven't posted a shutout in their last four games, which is rare in a tournament short on goals, but they've been the ones doing the scoring, and they should be a popular team to rally around as they face either Germany or Spain in the Final (
aka the next defense of the Unofficial Football World Championship
.) Don't know what it is, but there's just something likeable about the Orange. Excuse me, Oranje.