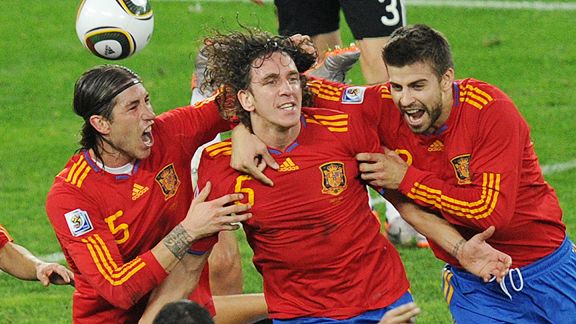 Spain 1, Germany 0
In retrospect, I really should not have picked Germany to win this game, and I'm a little mad at myself for doing so. Even though I haven't been betting on these games, I think I've done a pretty good job with the predictions, which should at least gain me some clout for when you're looking for a blog to predict the games of World Cup 2014 (The plan has always been to do this blog until I make the mistake of having a kid, and God willing I'm not a dad in 2014. Hell, here's to hoping I don't have a four-year-old kid by the time that Cup comes along).
The reason I shouldn't have picked Germany though is because a German victory would not have been in accordance with how sports work. See, everyone was hoping on the German bandwagon after they scored eight goals in their last two games, and they became a popular pick to breeze to the Final. Spain on the other hand was the onetime favorite, and after struggling a bit in the beginning they have almost made this trek to the semifinals a bit under the radar.
In a matchup where the Germans were expected to keep up their offensive fireworks, it was Spain that put the pressure on throughout the game. It took 73 minutes for that hard work to pay off, but it finally did when Carles Puyol connected via the header. That was all that was needed for Spain in this game, which shouldn't be surprising considering how well this team knows each other. All but two members of the Spanish starting eleven play for either Real Madrid or Barcelona, which means this team knows each other about as well as you can. It'd be like if the Dream Team was made up of nobody but players from the Lakers and the Miami Heat.
The cohesiveness paid off obviously, as Spain is headed to the World Cup final for the first time ever. That means that on Sunday history will be made, as neither the Netherlands or Spain have won the World Cup. Looking at this from a historical standpoint, this has to be the final that you want in the record books. The Dutch haven't lost a game since 2008, and Spain was the head and shoulders favorites to win this thing, so the champion will be deserving. Both teams didn't play flawlessly to get here, but they converted their chances when they needed too. It's going to be a hell of a final, I can't wait.