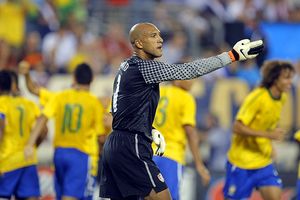 While in a dream world this United States vs. Brazil matchup would have taken place in the actual World Cup semifinal this season, the two teams instead met on Tuesday night in the New Meadowlands stadium for an international friendly. And it did not go well for the United States squad. The U.S. played to form by giving up goals in the first half, and ultimately it was the two first half goals that did them in
to lose by a score of 2-0
. Thus ends the hoopla over the U.S. men's national team.
This game meant a lot more to the American side than it did to Brazil, as Brazil debuted a younger squad against an America team that was basically a carbon copy of the team they trotted out during the World Cup. Brazil is an established world soccer power, we all know that. But the Americans are an up and coming squad that is battling on two fronts - they are trying to prove their way in soccer world as well as trying to convince the people at home that they are a worthy team to follow. The fringe fans wanted to see a win on Tuesday, but that was not the case, as the Americans didn't play their best game against a quality Brazil side.
After the squad, Tim Howard basically said that the team took a step backwards from their semi-impressive World Cup run, and that's a great way to sum up this game. Actually, that's a great way to sum up Tim Howard right now in my opinion. The guy is a great goalkeeper, that's not even a question, but personally I have felt like he has been playing a little below his level even during the Cup. The performance and the loss isn't a huge deal though, as it was just a friendly, but I was hoping that the squad could have maybe put a decent win together to keep this momentum going and keep gaining supporters and that just did not happen tonight.
Oh well, I just have to keep reminding myself that no matter how much I love soccer and follow these national team friendlies, soccer just won't be important in America unless it's a World Cup.
POTG: Alcides Escobar.
Wait, wrong game? Oh well.