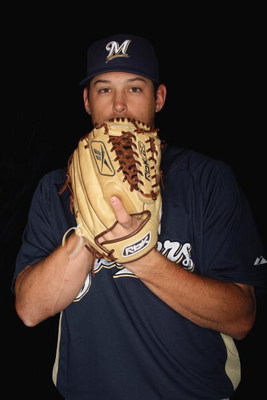 I really feel bad about this, because I'm definitely treating the Brewers right now with the tendencies of a bandwagon fan. I'm highly negative of them, and I haven't watched a full game since they were competitive. I don't want things to be this way, but it's hard to start to watch something that you know is going to be a trainwreck at the end (kind of like NBC's "The Event"). I remember two years ago at this time I had to be watching every second of every game, even blowing off a Packer game or two to watch the Brewers. I liked when things were like that, because I love watching the Brewers. But watching the Brewers when they are good and watching the Brewers when they are bad are two completely different scenarios.
The thing is, when you're a winning club the season doesn't seem so long. Every game is important, and it's a hell of a time to watch. But when you're losing, the season just drags and drags and just won't die, and that's how this season has been. Friday night though I finally decided to settle in and watch a Crew game, as there was some intrigue to an otherwise ho-hum game against the Marlins. Starting on the hill for Milwaukee was Mark Rogers, the Brewers first round pick (and fifth overall) in the 2004 amateur draft. It was kind of exciting to finally watch Rogers get his way up to the bigs, and even though he got himself into a jam in the first inning, his high heater to Chad Tracy to strike him out when the bases were loaded was the most compelling thing I've seen out of this team in a long time.
Rogers ended up
pitching just three innings
, and he left with zero runs crossing the plate. He also did pretty well with the stick, getting a big league hit and then the game's first run. Jeremy Jeffress is in there as of this writing, and I haven't seen him pitch yet even though this his is eighth appearance. It's not pennant baseball, but it's reason to get excited for the future of this club. When it's this late this season that's all you really can watch for when your team is struggling.
Of course, I'll turn the channel eventually because bad baseball isn't particularly fun to watch. Plus, think of all the other things on TV this Friday night. There is Ahman Green and Jeff Garcia playing for the Omaha Nighthawks of the UFL. You need HDNet to watch the game, but would you believe that Omaha sold out their stadium for the contest? Even though it holds only about 23,000, that's insane. Also, NFL Network carries a Canadian Football League game every Friday, so that's riveting. Plus, there's the big Galaxy/Red Bulls MLS matchup at 10pm tonight on ESPN2.
So many second tier sports options to choose from tonight! Enjoy.