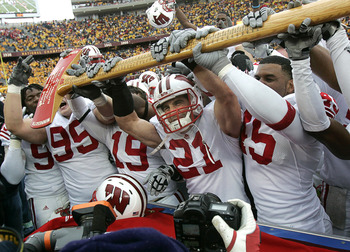 Even though this is technically more of an "alignment" than a "realignment", one thing is for sure - Jim Delaney and the other Big Ten officials didn't really set up these two new divisions with the Badgers in mind. Sure, we still will be playing for the Paul Bunyan Ax every season against the Golden Gophers, but other than that nothing about this restructuring plays into the Badgers favor. We lose our yearly rivalry against the Hawkeyes, we have to play Penn State and Ohio State every season no matter what, and most importantly we unfortunately don't get to beat up on Northwestern every year. L-ame.
Badgers fans are clearly unhappy about this restructuring,
as 81 percent of us voted against it on the JSOnline poll
. The realignment, which is only for football, has the Badgers playing Ohio State, Penn State, Indiana, Illinois, and Purdue every season. The other division then has Michigan, Michigan State, Iowa, Minnesota, Northwestern, and newcomer Nebraska. Geography didn't have anything to do with the new set up as Delaney said it was all about competitiveness, but it's clear to see that the whole two conferences were based around Ohio State and Michigan. Not only do they keep their rivalry in tact, but they are also eligible to play each other in the conference championship game each year. Good for them.
Personally, I would have liked to see more of an effort placed on keeping all of the Badgers rivalries in tact, specifically the one against Iowa. It's especially fun due to the fact that Bret Bielema has a Hawkeye tattoo on his ankle, but I guess it's not to be. I'm too upset with the realignment, although I do think we were placed in the tougher of the two divisions. With that said,
here are the schedules for the 2011 and 2012 seasons
:
SEPT. 3 UNLV
SEPT. 10 OREGON STATE
Sept. 17 vs. Northern Illinois (at Soldier Field - Chicago)
SEPT. 24 SOUTH DAKOTA
OCT. 1 NEBRASKA
Oct. 8 BYE WEEK
OCT. 15 INDIANA
Oct. 22 at Michigan State
Oct. 29 at Ohio State
NOV. 5 PURDUE
Nov. 12 at Minnesota
Nov. 19 at Illinois
NOV. 26 PENN STATE
The 2012 schedule does not include nonconference games but here is the partial schedule, which includes all eight league games.
SEPT. 1 HOME TBA
Sept. 8 at Oregon State
SEPT. 15 HOME TBA
SEPT. 22 HOME TBA
Sept. 29 at Nebraska
OCT. 6 ILLINOIS
Oct. 13 at Purdue
OCT. 20 MINNESOTA
OCT. 27 MICHIGAN STATE
Nov. 3 BYE WEEK
Nov. 10 at Indiana
NOV. 17 OHIO STATE
Nov. 24 at Penn State
As for this 2010 season, the Badgers open things up on Saturday night against UNLV. Mike Lucas of the Capital Times has an interesting article focusing on the history of the series between the Badgers and the Rebels
which can be found here
. The game itself is a late one, but you can find it on Versus at 10pm. Try and stay sober for at least a little bit if you can.