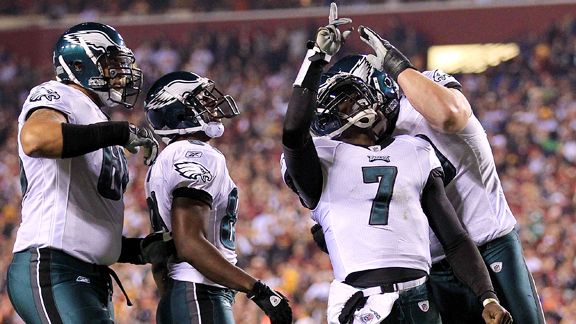 1. Biggest Fantasy Week Ever? -
With the lack of a Packer game this week, we were still definitely entertained by the rest of the National Football League. Especially for those of us that are involved in a fantasy football league, which I assume has to be everyone by now. Starting with the Thursday night game that saw huge performances by Matt Ryan, Joe Flacco, and Roddy White, that turned out to be just a precursor of the week to come. Anyone that started Tom Brady, Matt Cassell, Dwayne Bowe, Mike Thomas, Ben Roethlisberger, and/or Fred Jackson likely had a good week. But then again, there were so many solid fantasy performances this week that you could have had some of those guys and lose. Especially if you were playing that monster that is....
2. Holy Vick -
Michael Vick. Four passing touchdowns, 333 pass yards, 80 rush yards and two rushing TDs. In the league that I'm in with high school buddies, he racked up an astonishing 57 points. I'd have to look it up, but I can't imagine that I've ever seen a better fantasy day. But fantasy is just part of the equation. The main thing to take away from this performance is that this is going to be a scary team to face in the real NFL playoffs. I've been saying since his second half performance against the Packers in week one that if Vick became the full time starter of this team, then the Eagles would be the last team I'd want to face in the playoffs. Well, that's happened, and I hold true to my original statement. How do you stop this guy? Granted, the Redskins are shitty (sorry in advance if this article
gets picked up by Packer Chatters
and some guy tries to make me apologize for swearing, jackass). But still, Vick has the best pure throwing motion in the league right now, and if you do a good job in pass coverage, then he's just going to run it for fifteen yards and the first down. We can face the Giants, the Saints, even the Falcons in their building, I don't care. I just do not want to see us have to stop Mike Vick and the Eagles. Remember that one year in Madden when Vick was so good he was impossible to play against? I think he's better than that now in real life.
3. The Play of the Year -
If there was one game that we wished Gus Johnson would have called this weekend, it was the Jaguars/Texans matchup, and thankfully our wish was granted. Even though he doesn't get the marquee game each week, the game that Gus is calling always manages to be a thriller, and this last game of his had to have the finish of the year. David Garrard throws a Hail Mary, actually throws it short of his target, but a Texans defender knocks it down right into Mike Thomas's hands who walks in for the score. That's what you are supposed to do though, is knock it down, unfortunately there is a clause that if you do such an action it shouldn't be directly to a remember of the opposing team. I feel terrible for the Texans, but somehow the Jaguars won that game and somehow they are 5-4.
4. The Boys Are Back -
Just like I had a hunch that the Browns would beat the Patriots last weekend (although I have no proof to back that up, and I didn't put any money on it), I again had a hunch that the Cowboys would beat the Giants (although I have no proof on that, and didn't put any money on it). It wasn't so much because the Cowboys made a coaching change, but I just thought that the Giants were prone to fail themselves. All season long, any time a team gets anointed as the league's best, they seem to lose the following week. For that reason, I'm going to predict a Rams win against the Falcons next week in St. Louis (but probably won't put money on it).
5. Just Bag It, Brett -
The big debate this week was who to root for - the Bears or the Vikings? Even though a Bears win technically put them in first place of the division, I would have rather seen them win than the Vikings. Fact is, I just hate the Vikings more, and I began to feel that way even before Brett Favre threw his career away by playing for the Packers rival. When I grew up, I was trained to hate the Bears more than anything, but as I got older and lived in Western Wisconsin for awhile, Vikings fans became more of the enemy. Favre looked like shit (oops again) in this game too, which made me feel even more overjoyed. The Vikings are done, they are a mess, Favre is hurt again because they lost, and now they have the Packers in five days. Please God let us dismantle them next week and bury them for good. The Bears did most of the work, now give us the hot tag and let us put our finisher on them (wrestling reference, good night everybody!)