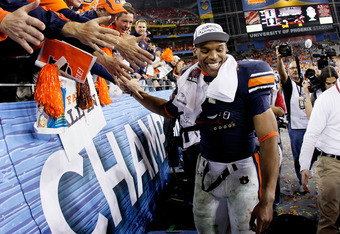 The college football season may be over, but that doesn't mean the debate has to end. Actually, just let me check on something quick. The college football season is over, right? Are we sure San Jose State and Vanderbilt don't play in some dot-com bowl next weekend? Anyway, now that another college football season has been wasted because of the lack of a playoff, let's irrationally try to figure out who the ten top teams in the country are.
10. Alabama -
Prior to their game against Michigan State, I dubbed their contest the "Oh My God, that Team Got Crushed and Flat Out Embarrassed, What a Surprise That We Actually Should Have Seen Coming" bowl. Alabama did just that, and crushed the Spartans 49-7. Normally since we love the mid-majors we'd put a team like 13-1 Nevada here in the ten spot, but even though the Tide have three loses we have to give credit where credit is due. Alabama is a good team, and would have had a great shot to win the championship if they made the playoffs. Sadly, in college football the playoffs are made up of only two teams.
9. Oklahoma -
When it comes to college football, New Year's Day just isn't what it used to be. There are less games than there have been in the past, and the nightcap this year featuring Oklahoma and UConn left a lot to be desired. I'd talk more about the Sooners here, but I chose to watch NHL's Winter Classic that night instead. As I'm sure many of you did.
8. LSU -
Speaking of how lame New Years Day is getting in terms of college football, this was the year where we saw the Cotton Bowl get moved to the night of Friday, January 7th. I don't recall what I was doing that night, but I know it wasn't until 11pm that I finally remembered the Cotton Bowl was even being played that evening (ah yes, Bucks/Heat was on). As for LSU though, with two losses (Auburn, Arkansas), wins against Alabama, Texas A&M, and Florida, and the knowledge that Les Miles isn't going anywhere, I'd say this season was a success.
7. Boise State -
You know, how Boise beat Nevada, they would have been in the Rose Bowl and TCU would have possibly missed out on a BCS bid. Even though both teams would have been undefeated at that point. I think Boise State has proved that they are a legitimate program, and they'll be a top ten team for a long, long time, but at this point I'm not ever sure that they'll be viewed as a legit contender for the title, and I'm not sure they'll ever make a national championship game without the implementation of a playoff.
6. Ohio State -
Yeah, they're the first Big Ten team to beat an SEC team in a bowl in quite some time, but they still lost to Bucky this season. Fuck you Buckeyes!
5. Wisconsin -
So even though the official polls have Ohio State over Wisconsin, my homer influence about the Badgers end here. The Badgers would probably have finished three, maybe two in the nation had they beat TCU in the Rose Bowl (do I have to say presented by VIZIO here?), and if the game had been played in early December I think that they would have. Ultimately, I don't think the Badgers ran the ball enough throughout the duration of the game, kind of getting away from what got them there a little bit. The future looks bright for Bucky though, although this is another team that I can't see winning it all without a playoff system, because no matter how good the Badgers are, it's almost inevitable they'll pick up at least one loss somewhere along the way.
4. Stanford -
2011 is already the year of people's stock climbing ridiculously high in just a few short days, starting with Jim Harbaugh and half of the NFL's desire to hire him as a coach. He landed with San Francisco, and even though my Niners fan buddy thinks that will be "Harbaughsome", I can't imagine Harbaugh will make it to the playoffs right away ala Pete Carroll. Then again, he is in the NFC West. Add Homeless Ted Williams to the list of people that saw their fame skyrocket ridiculously in 2011 as well.
3. Oregon -
"OMG, what a classic" was a popular sentiment on the ol' Facebook NewsFeed after Auburn edged Oregon for the national championship, but I can't say I agree with that one bit. This game was incredibly boring, and save for the final four minutes doesn't deserve to ever be watched again. You'll probably believe me if I told you I was so bored I switched over to Monday Night RAW for awhile, but will you believe me if I say I was so bored that I even watched some of the movie "Mystery Men"? Because I did. This game was terrible. That will happen when you wait six weeks to finally play. Nobody sums up that sentiment than Deadspin's Drew Magary,
of which I will now link to
.
2. Auburn -
Can't rank a team number one when we all know the title is getting stripped in five years anyway. Have fun in the pros, JaMarcus Newton.
1. TCU -
Kudos to the few voters that still gave TCU
a few first place votes in the real polls
, but the fact that they even got any shows you how illegitimate the BCS system is. They design a game to determine a clear-cut national champions, and then the winning team of that game doesn't even get all the first place votes? Nice. Most TCU fans will look back fondly on their undefeated Rose-Bowl winning season, but if I were them I'd be more pissed that my team had to sit out of the national championship game on behalf of two teams who played like they didn't remember how to even play football. Congrats TCU, you are the first ever Bucky Channel Champions.