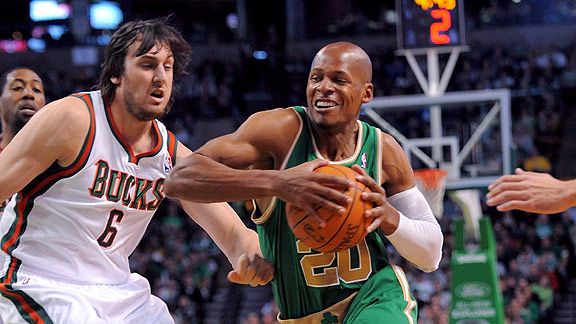 This is why we don't write posts that commend the Bucks for playing well, because as soon as we do they immediately go out and embarrass themselves. The fact that they lost to the Boston Celtics on Sunday night isn't the embarrassing part, it's more how they lost that should have this Bucks team hanging their heads in shame. Boston set a franchise record for least points allowed by holding the Bucks to just 56 points in the Celtics' 87-56 victory. Even more embarrassing for the Bucks was when they took to the locker room at halftime, they had just 22 points on the scoreboard. Dreadful.
With the way that the Bucks were playing lately, they were appearing to prime themselves up for a run at the eighth seed in the Eastern Conference. If they did get that eight seed though, they'd likely be facing the Celtics who are in pole position for the one seed. If Sunday night's game was a sign of things to come, maybe it's better that the Bucks stay home during the postseason. In their two previous meetings this year, the Bucks actually played two of their better games this season, they just unfortunately lost to Boston on both occasions. But Sunday night was more or less one of the worst games in Bucks franchise history, and I'm afraid we'd just see more of the same if this was in fact a playoff pairing.
There's really not much else to say about the Bucks performance on Sunday night, as highlights are few and far between when you score just 56 points on the night. Milwaukee was 22-of-70 shooting which is a percentage of just over thirty-one. The Bucks are a poor shooting team to begin with, and now it looks like they may have finally bottomed out. This was a night where the Bucks played so poorly that their leading scorer was Earl Barron, a guy who is just getting scrub minutes with the team right now on a ten-day contract.
But as bad as the Bucks played on Sunday, they are still in the playoff picture, but now 1.5 games back of the eighth seed as both Indiana and Charlotte won. Things don't get much easier for Milwaukee either, as their schedule this week includes Atlanta and Orlando. Maybe the goal of getting the playoffs should be put on the backburner this week, and Milwaukee should focus on not embarrassing themselves this week.