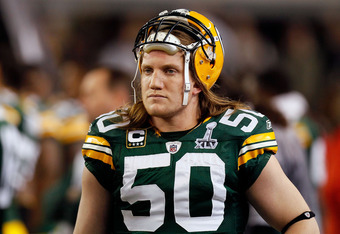 Earlier, we said that while
A.J. Hawk was released from the Green Bay Packers
, the news should not be as alarming as it sounds. Both Ted Thompson and A.J. Hawk knew that he wasn't worth $10 million next season, so he had to either work out a deal or be released otherwise the Packers were going to have to pay him that money. While ultimately I figured Hawk would soon resign with the Packers, I wasn't sure as to when that would be. But with the deadline to negotiate a new CBA looming, for Hawk it was either sign a new contract now or be unsure of when he was going to be paid next. Well, about five hours after he was released, A.J. Hawk has resigned with the Green Bay Packers,
ensuring that he will be a member of the Green and Gold for the next five years
.
The terms of the deal are yet to be disclosed, but Hawk will be flying back to Green Bay on Thursday to finalize the deal. It's not surprising that Hawk has been resigned, but it's amazing to me just how quickly he was brought bad into the fold. Either way, I can't imagine a Packers team without A.J. Hawk, and I'm glad he's back in the mix. I think this is good news all around, unless your name is Nick Barnett. This makes his days as a Packer all but numbered.