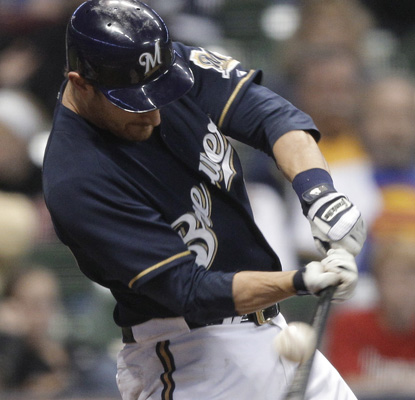 I gotta say, it's so nice to be on the winning sides of games like this. When Mike Morse hit a grand slam in the third inning, any normal baseball fan would have thought that the Washington Nationals would likely be on their way to victory. The Brewers starting pitcher, Chris Narveson, couldn't make it out of the fourth inning, and it appeared the Brewers luck had run out after an impressive week of baseball. But this is a Brewers team that has seemed rejuvenated as of late, beginning to play like the team that we thought they could play like at the beginning of the season. They used all sorts of different methods, but they rallied back for the 7-6 victory.
A comeback seemed even more unlikely after Ryan Braun was ejected in that third inning after arguing over a call at first base. Carlos Gomez was forced to occupy the game and enter the three hole, and we all know that the phrases "three hole" and "Carlos Gomez" should never been written in the same sentence, sans perhaps Gomez's bedroom life with a lady. From early on it seemed like everything was working against the Brewers in this game, and that the Nationals were destined to tie the series at one a piece.
But then things started to turn in favor of Milwaukee. Rickie Weeks made it to second base after Danny Espinosa let a fly ball drop right out of his glove. Jonathan Lucroy turned into an offense powerhouse, hitting a solo shot in the fourth (Hart and Weeks also homered in the contest) and ripping a shot down the right-field line in the eighth inning that just hit chalk and stayed fair. On that very same play, Brandon Boggs came crashing into Wilson Ramos at the plate, and Ramos was unable to hang on the baseball, thus seeing Boggs putting Milwaukee back into the lead. Even in the ninth, when John Axford fanned three batters, things got shaky as Ian Desmond advanced to first on a strikeout turned wild pitch. Axford did actually load up the bases, but got out of the jam and the Brewers earned their fifth straight victory, still flawless on this current nine-game homestand.
With the win, the Brewers improve to 26-23 on the season, quickly climbing up the NL standings. They are still 3 1/2 games back of the Cardinals as St. Louis has been on a winning streak of their own. Clearly though, at this time of the year you have to just focus on winning games and worry about the standings once you get to August and September. Milwaukee has won 13 of their last 16 games, which is a refreshing thing to say after a rough start to this season.
Early game on Wednesday, make sure you're ready for some Brewers at 12:05pm.
POTG: Jonathan Lucroy
A game that was lost
Brewers needed a hero
Thank God for Lucroy