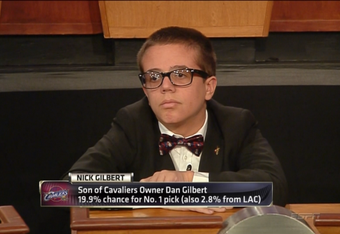 Get ready to see Nick Gilbert get shoved down our throats. The son of Cavaliers' owner Dan Gilbert was the good luck charm for the Cavs as they had two chances at the number one pick in the NBA Draft Lottery - and they got it. One summer after LeBron James took his talents to Souf Beach, the Cavs are in prime position to rebuild with the numbers one and four picks.
Look, Nick Gilbert is a good kid. I just don't want to see him ever again. But his presence is a story that ESPN is going to eat up for the next 24 news cycle, so be prepared to see a lot of him. If you watched the lottery, you'll remember that the phrase "What's not to like?" was said about twenty times. First, in reference to the story that is Nick Gilbert (Ambassador for the Children's Tumor Foundation), and then in reference to the fact that the Cavs hit the jackpot during this lottery. The robot that is Heather Cox probably said the phrase so much that she's going to try and trademark it, while the Cavaliers are about 90 percent likely to use it as their slogan for the 2011-2012 basketball season.
Oh, and I almost forgot. The Bucks got the ten pick in a terribly weak draft class. The wish, obviously, is that the Bucks find someone that can help this team now rather than draft another project. Not the best night for the Bucks, but what can you do.
At least Josh Cribbs looked like he was having a nice time.