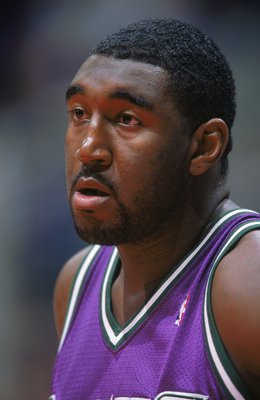 The man that the Bucks traded the rights of Dirk Nowitzki for has been found dead. Tractor Traylor, 34, was found dead in his Puerto Rican apartment on Wednesday.
From CNN.com
:
Robert "Tractor" Traylor, known for his size during the short time he played in the NBA, was found dead in his apartment in Puerto Rico where he had been playing basketball, according to the Bayamon Vaqueros team site.

Calling him "the strength of the Bayamón Vaqueros," the team said Traylor had not been seen for a few days and so they went to his apartment, where he was found dead.

Traylor, 34, is presumed to have died of a heart attack, according to Bayamon Vaqueros. The star struggled due to his size - but also heart problems when he tried to make it in the NBA. He had a heart operation in 2005.

Traylor, who graduated from Michigan, was taken by the Dallas Mavericks as the sixth pick in the NBA draft in 1998 but was traded to the Milwaukee Bucks for Dirk Nowitzki.
Always sad to see anyone lose their life, especially a member of the Bucks family. Makes you want to re-evaluate just how healthy we are in our own lives. A life taken far too young.