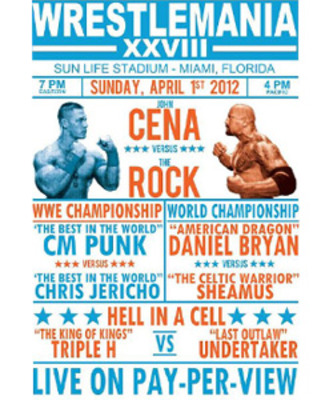 It's come to the point where not only do I watch wrestling on a regular basis, but now I'm more than comfortable talking about my appreciation for the, let's say, sport. And I'm actually at the point where I watch and read enough about the WWE that I feel I can make predictions which will turn out to be mostly accurate. So with my new found level of comfort "embracing the hate", let's dive through these predictions one by one.
WWE Tag Team Title Match - Epico & Primo (w/Rosa Mendes) (c) vs. The Uso Brothers vs. Tyson Kidd & Justin Gabriel
Didn't realize this match was on the card? Me neither, until Friday night when it was announced. The WWE has a had a habit lately of adding the tag title match to pay-per-view cards unannounced, so at least they gave this match two days for people to discover. Still, this appears to be the dark match, although it will stream live on WWE.com before the pay-per-view begins. Because of how haphazardly the Kidd and Gabriel team was thrown together, I have to think it's done in an effort to build a storyline into the tag division and therefore I could see them swooping to pick up the belts. But because it's off the main card, I expect Epico and Primo to retain and then begin a rivalry with Gabriel and Kidd that will play out on television until the former drop the belts to the latter.
Winner: Epico and Primo pin The Uso Brothers to retain
Kelly Kelly & Maria Menounos vs. Beth Phoenix & Eve
A terribly thrown together match to get both a) some divas on the card and b) a celebrity on the show. Although I won't be upset if you can't tell which one of those in the match is supposed to be the celebrity. Maria Menounos is one of the hosts on "Extra" and has also been a guest host of RAW on one occasion. She's also currently Dancing with the Stars right now, so I don't know how she's working in the time to fly to Miami from Hollywood to take part in Wrestlemania. Menounos is one of those people that seem to make a living off of random appearances like this. Trust me, that chick you've never heard of during the Celebrity All-Star Softball game or the DirecTV Flag Football competition? That's been Menounos for like the last three years. Expect to see some storyline progression out of Eve's character, but also expect the baby faces to come away with the win.
Winner: Kelly Kelly & Maria Menounos by pinfall (and a terrible performance on Dancing with the Stars for Menounos this Monday)
Randy Orton vs. Kane
Randy Orton and Kane are two guys that are at or near the top of the card at any given time. Randy Orton and Kane had no storylines or no rivals going into Wrestlemania. Randy Orton and Kane were not in any title chase. Thus, Randy Orton and Kane are going to fight each other only because they have no one else to fight. There really is no feud here, Kane attacked Orton after a match once and the two have been attacking each other ever since. This feud could have had some legs if Kane would have beat Cena at the Royal Rumble. Had that happened, Cena could have gone on a path to turning heel, while Kane could have been painted as someone out to destroy the top wrestlers in the WWE one at a time. Instead, we're getting a match that means very little and a match that I will make sure coincides with when the pizza arrives.
Winner: Randy Orton beats Kane with an RKO.
Team Teddy (Santino Marella & Kofi Kingston & R-Truth & Zack Ryder & The Great Khali & Booker T w/ Hornswoggle) vs. Team Johnny (Dolph Ziggler & Jack Swagger & David Otunga & The Miz & Drew McIntyre & Mark Henry w/ Vickie Guerrero)
It's the Get Everyone on the Card Match, and I'm disappointed we're getting it in the form of a twelve man tag match instead of something like a Money in the Bank ladder match. This match is going to be the comedy portion of the show, and also going to be very messy. Twelve guys, with a woman and whatever the hell you'd call Hornswoggle, plus the two general managers all at ringside at the same time is going to be tough to keep track of. Because I see the feud between John Lauranitis and Teddy Long continuing, I expect Team Johnny to get a victory by some nefarious means.
Winner: The Miz pins Kofi Kingston setting up a feud between them, Teddy Long is relegated to an assistant where he is put through embarrassing situations week after week on Smackdown.
WWE Intercontinental Title Match - Cody Rhodes (c) vs. The Big Show
Cody Rhodes is set up for big things in 2012, and I eventually see him dropping the IC title when he's elevated into the top of the card. But that's not going to happen quite yet, as Rhodes is going to get a Wrestlemania moment by taking down The Big Show. Rhodes has been great as a pest to The Big Show, bringing up all of the embarrassing Wrestlemania moments of his past throughout the last six weeks. Perhaps Show does get his hands on Rhodes by beating him up post match, but Rhodes is going to walk out of Wrestlemania the same way he walked in, as the IC champion.
Winner: Cody Rhodes by pinfall.
WWE World Heavyweight Championship Match - Daniel Bryan (c) (w/ A.J.) vs. Sheamus
My initial feelings on this card is that because the two main events are sure to be crowd pleasers, WWE can get away with having the heels come out on top in the other matches. I've seen a lot of people predicting Sheamus to win this match, but I'm not sure why he would. Daniel Bryan's character has been more developed during this build up, while Sheamus has been nothing more than a happy-go-lucky Irishmen. There's been plenty of times where the WWE has gone with a title change just for the hell of it, but I'd like to see them get more story out of these two men. They have something special with Bryan right now, and a loss for Sheamus could actually put some fire into him to really chase into him and really develop a rivalry between the two men.
Winner: Daniel Bryan pins Sheamus after some interference by A.J.
WWE Championship Match - C.M. Punk (c) vs. Chris Jericho
Jericho's return to the WWE was simply awesome, coming back and not talking for several weeks. But he quickly morphed back into the character he played when he left the WWE in 2011, which was disappointing in a way. But Jericho has been my favorite wrestler ever since I allowed myself to admit that I enjoy the WWE, although he's facing my second favorite in C.M. Punk. This is a tough match to call, because no one is really sure how long Jericho is going to stick around this time. But because of the personal angle to this match that has developed in recent weeks, I feel there is more of a story to tell yet with these two. To tell the story of a heel getting the better of a babyface, I think you need to have the babyface in chase mode. Let's see these two go at it a little longer.
Winner: Chris Jericho pins C.M. Punk, although the pin won't be entirely clean.
The Undertaker vs. Triple H (with Shawn Michaels as special referee)
20-0 will become a reality after tonight, I am 100 percent sure of that. But at some point during the match, I'm going to be convinced that the streak is going to end. The build for this match has been great and I think the match is going to be excellent. Even though I think Triple H's ego is big enough that he would be the one to end the streak, there is too much money in the Undertaker going 20-0. The Streak lives on.
Winner: Undertaker pins Triple H, then gives a Tombstone to Shawn Michaels and retires.
John Cena vs. The Rock
I don't like that this match has been booked for an entire year. I don't like how they had Cena continue to one-up The Rock during the last six weeks. I especially don't like the John Cena character, thinking that it's become incredibly stale. Yes, there is money in Cena being who he is and the money reason alone is why I think the Undertaker's streak stays alive. But in this case, I am praying for a John Cena heel turn. How is there not money in that? Hogan turned heel at one point. So did The Rock. Why can't John Cena? So many new possibilities, storylines, and matches could come out of a heel turn. You have plenty of current top babyfaces to pick up the void that Cena would leave (Punk, Orton, Sheamus). Plus, I want to see another Cena/Punk feud, or Cena/Orton feud, but this time with Cena as the bad guy.
It's not going to happen though. What will? It's hard to say. Do you give Rock the victory in his hometown? Do you give Cena the win to show that a part-time wrestler can't just come back and beat the full-time company man? Or can you not have a clean winner, and rather make sure both guys come out looking strong? There are a lot of big names in Miami right now, and I'm not going to spoil that for you if you haven't heard, but I do expect some interference in this match. I don't think you should have interference in this match, but I don't think the WWE knows who they want to win. The one prediction I am sure of? No matter what happens, we're going to groan about it.
Winner: Outside interference allows John Cena to build The Rock. Ten percent chance of legit heel turn, but unlikely.