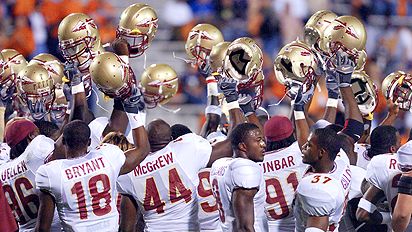 For the first time in the history of the Wisconsin Badgers football program, they will take on the Seminoles of Florida State. Both teams have accepted invitations to the Champs Sports Bowl, to be held at 3:30pm (Central) on Saturday, December 27th.
It is however,
going to be the fifth straight year the Badgers will head to Florida
for the "postseason", and the third time in the last four years they'll play in Orlando.
Here's the rest of
your college football bowl schedule
. The Bucky Channel will probably sponsor some sort of bowl pick 'em challenge through Yahoo!, of which I should have more information in the coming days. I'm not sure what the prize will be yet, but it will likely be a T-shirt, of which I have yet to have made. Details on that forthcoming.