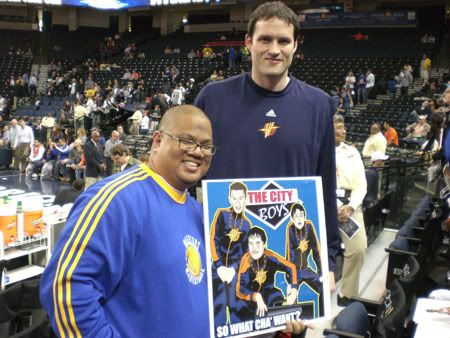 With less than 24 hours to go until the Bucks regular season opener, they have decided to made a slight tweak to the roster. Forward Adrian Griffin
has been placed on waivers
, while forward Austin Croshere has been claimed from them. Croshere is an 11-year veteran, with nine years in Indiana, one year in Dallas, and most recently a year with Golden State.
I don't really know much about Croshere, quite honestly. To me, he's always just been a guy I picked up when I was in a fantasy basketball pinch. I wasn't even 100% sure he was white until I found his picture a few short moments ago. But it's not a bad move for the Bucks. Griffin wasn't going to contribute much anyway, and Croshere is likely to see a fair amount of minutes.
This keeps the Bucks roster at 15, including Damon Jones who will not suit up for Milwaukee this year. There was some speculation Jones could have been traded by now, as the Bucks were liking what they saw out of forward Matt Freije. But Freije was
placed on waivers last week
, so the count is still 14 plus Damon Jones.
The Bucks will open their 08-09 campaign tonight in Chicago at 7:30pm.