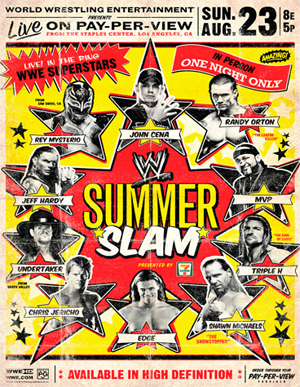 I usually do these predictions in my Winks Thinks leading up to a pay-per-view, but it slipped the mind this week (although I'm sure nobody missed them). Nevertheless, I'm jacked about tonight's event, so you're getting the predictions anyway.
Kane vs. The Great Khali - This is the match nobody cares about, and storyline wise I think Khali would be the winner. But Kane has looked sharp in his return, so to have him lose here would be foolish. The Undertaker is on the poster for the event, so if he were to make a surprise return, it'd have to be in this match.
Montel Vontavious Porter vs. Jack Swagger - This is a match I'm looking forward to, and am glad it got added on the card. I think MVP wins the match.
Dolph Zigger vs. Rey Mysterio for the Intercontinental Championship - Mysterio was promised a long title reign, so I think he's victorious tonight. However, it would make more sense to give the belt to Zigger and continue to push his character.
Christian vs. William Regal for the ECW Championship - I see a Regal and Christian feud that could last throughout the end of this year, but I don't think Regal gets his victory quite yet. Going with Christian.
Chris Jericho and The Big Show vs. Cryme Tyme for the Unified Tag Team Championship - Cryme Tyme has done well taking advantage of their push, but JeriShow is going to be around for awhile, so they'll win no problem. Perhaps they'll start a feud with DX after tonight?
DeGeneration X vs. Legacy - This event is rumored to be the main event, although I think that should go to the Punk/Hardy contest. Still, this is the man that is selling the card, if only for the return of one of the all-time favorite tag teams in Shawn Michaels and Triple H. This will be a good match, and hopefully Legacy looks strong tonight. No doubt though that DX will win.
Randy Orton vs. John Cena for the WWE Championship - I could see this going either way, especially because it's been a long time since Cena has had a belt. I'm going to say Cena wins, but by disqualification, keeping the belt on Orton.
Jeff Hardy vs. C.M. Punk for the World Heavyweight Championship - Tables, Ladders, and Chairs is the game of the game for this one. This has match of the year potential written all over it, and should cap off what has been a brilliant feud between Punk and Hardy. Not sure if Matt Hardy will have a role in this one, but I see the belt going back to Punk.