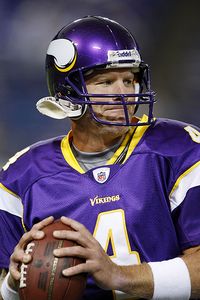 I know this is a Packers-friendly website, but there's no way we couldn't watch Brett Favre trot out on the field as a member of the Minnesota Vikings. It's almost as this was something I actually had to see to believe. And boy, am I glad I did.

Favre looked absolutely terrible against the Chiefs on Friday, going 1/4 with 4 yards, and the pass that was completed wasn't that good. While he definitely struggled, you'd never know it by the way Mike Mayock was talking on the Vikings preseason broadcast. Seriously, look for the game on the NFL Network this week, this is something you have to witness.
When Favre threw a crappy pass while under pressure, Mayock (who I once respected) actually said, "I'm okay with that. They bring pressure on both ends, remember this is an odd front, a 3-4. They bring both linebackers, a five man blitz, and Brett's going to get rid of it on time. Here comes pressure, he's very calm... as far as I'm concerned the Vikings took 43 sacks last year. That's unconscionable. Having Brett Favre there will reduce that number by one third. And once he gets an open receiver, that will be a complete pass".
So basically, it's okay if Favre throws a shitty pass because, hey, at least he didn't get sacked. Wow. If only he would have had an open receiver. Actually, he did have an open receiver on the very next possession, but missed him by a few yards. Here's what Mayock had to say about that.
"And again, I'm going to keep going back to this. That doesn't bother me at all. We talked about (how) 90 percent of the verbiage (in the playbook) is the same for him. But here's the nuances. Trying to get a feel for your receivers, especially if you're stepping up into the pocket... Here's what I love, he steps up, he looks back, trying to lead Jaymar Johnson away from the defender, that's a veteran throw. Jaymar Johnson will lead that he's gotta step away form the coverage.. that should be a completion and will be a completion, once he they get used to each other."
Unbelievable. The biggest thing about this whole Favre thing is that it opens my eyes as to how foolish we used to be. These are statements that we actually used to defend! Just insane how apologetic people can be for Favre.
If I don't like it, why do I watch? Well, you know I love watching a good trainwreck.