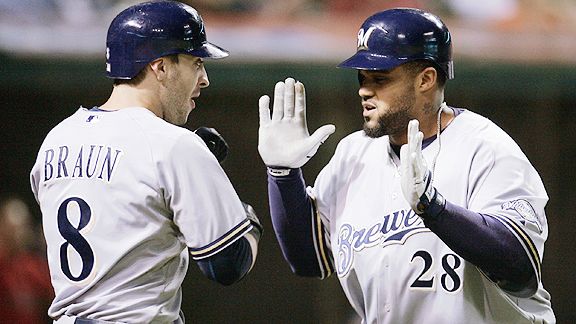 Well, despite Brewers fans efforts to get guys like Jason Kendall and Bill Hall into the All-Star game, only two Brewers ended up making the squad. Ryan Braun lead all National League outfielders in the fan voting, and will start in left field for the second season in a row. Prince Fielder has made the team as a reserve at first base, and will likely see one at-bat at most. I can't remember the last time a Brewer really made a key impact in an All-Star game, so hopefully Braun can perform next Tuesday.
Here's a list of the entire roster for both squads.
Despite this good news, it's a little discouraging to only see two Brewers in the game. Yovani Gallardo could make a case for being in the game (8-5, 2.75 ERA), but I think the real snub was Trevor Hoffman (18 saves, 1.93). In both of these guys cases, they likely missed the cut because of the All-Star game rule that there has to be a representative from each team, which is why you have a guy like Francisco Cordero over Hoffman. I think Hoffman is more deserving, but those are the rules. And that is a rule I like, so I guess that voids any right I have to complain.
Either way, it will be fun to watch Braun and Fielder represent Milwaukee in St. Louis next Tuesday night, and hopefully the NL can win this year so that the Brewers have home field advantage in the World Series!