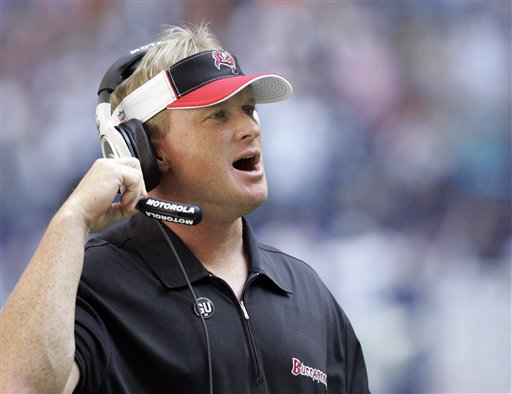 It's safe to watch Monday Night Football with the volume on again, sports fans. ESPN has announced a move that has really been two years in the making, ever since Tony Kornheiser debuted on the program. Kornheiser has been removed from the MNF booth starting this season, and will be replaced by former Bucs coach / Raiders coach / Packers assistant Jon Gruden, who had a marvelous TV debut for the NFL Network during the draft this season.
Kornheiser
provides a few comments to the ESPN.com article,
and makes it seem like it was a mutual decision for him to leave the booth, but we all know that's not the case. Despite random flashes of not sucking, Kornheiser ultimately just didn't click with what the fans wanted to hear. Too many of his attempts at humor fell flat, and took away from the broadcast. Also, and this is the big one, he talked about Brett Favre way too much (I know, I know, who doesn't these days, but he was beyond obsessive about it).
Mike Tirico, Ron Jaworski, and Jon Gruden sounds like a much better team than what we've been used to. Jaws does a great job in the booth, but is often overshadowed by Kornheiser's antics. Gruden has been known to make a joke or two, but at least he's a smart football guy, and not some over-the-top writer turned TV personality. This is the right move at the right time for ESPN, and I'm looking forward to hearing the new team.

The Packers will play on Monday Night Football twice this season. First on October 5th at Minnesota, and then they'll host the Ravens on December 7th.