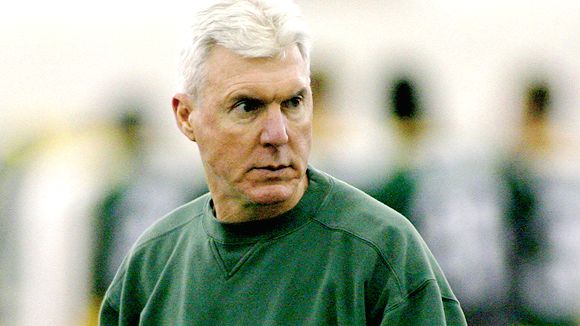 I may not have stolen my idea for my last post from the JS Online Packers Blog, but I definitely am stealing their idea for this post. Per
Packers.com
, here's the full transcript of what Ted Thompson had to say after the Packers selected B.J. Raji (again, excellent pick).
(Was it a difficult call between Raji and Crabtree?)

There are a lot of difficult calls during the course of the draft, and we think a lot of Michael Crabtree and a couple of other guys. But yeah, it was a difficult call. But we feel confident that we did the right thing.



(Were you surprised Raji fell this far?)

A little bit. Most of the pundits out there had him going a little bit earlier. He's a very powerful, explosive interior defensive lineman that has the ability to definitely play the run. He also shows the ability and the power to be a pass rusher from the inside. We think his addition gives us a little flexibility with Ryan (Pickett). Obviously Ryan is our nose tackle and he does a great job at it, but he is also athletic enough that if we wanted to move him around a little bit, that gives us some flexibility.



(You have said in the past you don't draft on need. Did you make this pick based on need?)

No. I mean, yeah, it's always going to be a factor. It's not that it doesn't factor in but you don't take a lesser player in your opinion. These players were rated about the same, him and a couple of other guys. So that's the way we balance it.



(Did you have any concerns about him on a character level that you had to get past during the process leading up to the draft?)

No. As you guys will get to meet him at some point, maybe next week or whatever, he is a very engaging fellow, very bright, very articulate. So the answer is no.



(What do you feel like he will bring to the 3-4?)

He's a classic nose-tackle build, but like I say, hopefully we are taking football players and B.J. Raji is a really good football player. I think he fits pretty well in the 3-4, but I also think he can play well in a 4-3, which he played his entire career in college. He is more than a space-eater. He's a little more than that. We're excited about him.



(Were you close at all to moving out of that spot?)

After we kind of got there, we were pretty convinced we were going to pick the player. We took a few calls, but it was just being polite.



(Did you talk to Jeff Jagodzinski at all about him?)

Yeah, back in the fall we did, when he was still there. Lee Gissendaner, our area scout, goes in there, as well as John Dorsey, and yeah, I think they both have spoken with Jags about that. He is good with him. A rare guy physically.



(What makes him rare physically?)

He's genuinely a powerful, powerful man, especially in his lower body. He has the ability to take people backwards where they don't want to go. He also has the quickness to go around them. He is a very powerful player against the run. It's unbelievably hard to find the combination of skill set that he brings. The good Lord just didn't make many people like this.



(It's been a couple of years since you didn't get booed at the draft party...)

Did I not get booed this year? They are getting soft. It's fine. It really doesn't matter because I've got thick enough skin to realize that is fine. The Jets picked a pretty good quarterback and I saw people in New York booing that pick. What matters is all of the work our staff puts in, all of the miles that our scouts travel, and then you come down to can you get a good player? We think we were able to get a good player and he should help our team.



(How important is the nose tackle to operating the 3-4 effectively?)

It's the anchor spot, and we feel blessed that we have two exceptional nose tackles now, and we have other young guys that might come on. But it's the anchor and you have to have it. When I was playing, Bum Phillips ran a 3-4 defense in Houston. Just like everything else in football, it's different than it was then, but it still depends on the nose tackle.



(What did you think of how the first five picks went and when did you start to think that Raji would be there for you?)

When we were on the clock. I had no idea what Jacksonville was doing. Everybody had predicted that they would be trading from that spot. I didn't know if they would stay and pick or trade out and let somebody else pick. I didn't know. I had seen some of the mock drafts were right on and some were completely different. I noticed we had the television thing on and a lot of the people said that the trade that Cleveland made changed a lot of things, but some picks earlier caused that to happen. I don't know. It's hard to guess. Everybody is playing this fantasy football and figuring out what is going to happen. We found it beneficial to just kind of relax and let it come to us.



(You said that you didn't have any concerns about his character. Was that because he had an exceptional interview and did you do a lot of work on that checking on his background?)

We did a lot of homework on all of the players, certainly the higher-profile guys like B.J. It is the culmination of all of that. It's the people that we talk to that know him, our own personal contacts and things like that. He's a good guy.



(Was the time you spent on the clock spent listening to trade offers or was there some debating going on between Raji and Crabtree?)

Like I said, I didn't expect the board to look like that when we got to nine, so I had to kind of take it all in and then talk it over with some of the guys and that sort of thing. It wasn't like we were searching our minds of what to do. I just wanted to kind of think it through because I hadn't really got to that scenario quite frankly.



(It was said he had a great week at the Senior Bowl. Was that confirmation of what you already thought of him or did that elevate his status?)

All-star games are different. I don't think you can put all of your eggs in a basket on an all-star game, whether a person does really good or really bad. I think most people in my business go by what they see on tape from the college games when they are playing for real. The all-star games can help you see athleticism and certainly the power that he demonstrated during the course of the week in one-on-ones and things like that, but you go mostly on the body of work from the school. That's what I try to do.



(Is his ability to collapse a pocket separate him from other defensive tackles the past few years?)

Quite frankly my mind is still focused in. I can't even remember the guys that have come out the last few years. For a guy that is a powerful run player, he does have the ability to compress the pocket and also the quickness to get around short sets. He can do some things. He won't necessarily be coming off the field all of the time on third down. I think you can probably leave him in, which is another thing about the combination of him and Ryan. They both are capable of doing that.



(When you had time to sit back and look at your draft board, what ultimately put Raji over Crabtree?)

I really am not going to speak to Crabtree too much. He is a member of the 49ers now and we wish him well. It's just all things being equal, you guys know how much we value big people, both on the offensive and the defensive line. The good ones are really hard to find, and it gets to be a supply and demand thing. It doesn't necessarily take away the value of another player at a different position. It's just that we have always put a lot of emphasis on that.