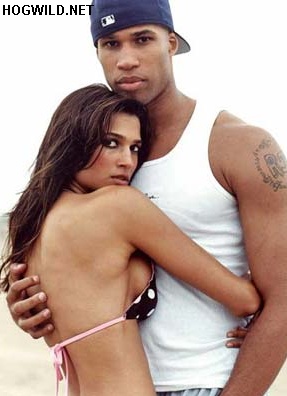 If the last post on this site was only up to make it appear like we're actually working hard today, this one is only being put up to bring you some Tuesday afternoon sideboob. I know that we've posted this picture before, but dude, it's sideboob!
There is some sort of merit to this entry however, and that is to declare Richard Jefferson as The Bucky Channel's Player of the Year. His 24 points and 7 assists were enough to give him POTG honors in the
Bucks 98-80 win over the Magic
on Monday night, and thus clinch him the title as our Bucks' MVP.
As you know, our MVP award is determined by who wins the Player of the Game contest the most, and Richard Jefferson has been given the award 19 times, with one game to go. No matter what happens though, he has clinched the honor already thanks to his consistent play, the injuries to Michael Redd and Andrew Bogut, the decrease in playing time for Charlie Villanueva lately, and the inability for anyone else on the team to really step up. Basically, a default victory, but a victory nonetheless. The current standings:
19 - Richard Jefferson
17 - Charlie Villanueva
12 - Ramon Sessions
8 - Andrew Bogut, Michael Redd
4 - Luke Ridnour, Luc Richard Mbah a Moute, Charlie Bell
1 - Dan Gadzuric, Francisco Elson, Joe Alexander, Malik Allen, Keith Bogans 
and, last but not least....
0 - Damon Jones.
There's one more game for the Bucks before the season is (finally) over, and that is Wednesday night against the Pacers in another contest that bumps the Brewers off of FSN Wisconsin. Then, on Thursday, come back to The Bucky Channel for the season premiere of Bucks Survivor, where you help us determine who should come back next year. If you need a refresher,
here is last year's contest
.