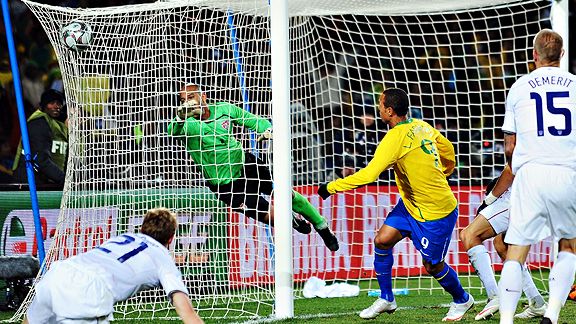 All afternoon long while I was watching this soccer game, I was looking forward to writing an article about how the United States has finally arrived on the world soccer scene. The focus of my article was going to be about how a win against Brazil in the Confederations Cup finals was going to be the defining moment in American soccer history. After Landon Donovan converted a beautiful transition attack to put the U.S. up 2-0, I thought for sure this game was in the book. But
Brazil rallied back and beat the U.S. 3-2
, and the Americans were left to wonder about the game that got away.
With that said, what an incredible tournament this turned out to be for the American side. While we still have a long way to go before we're equal to the likes of Spain and Brazil, we definitely showed that we belong at the party. The United States have gotten used to being a top 20 team in the world, but with this tournament they've shown they eventually be one of the elite.
Funny how that happened, too. This tournament started out as a disaster for Bob Bradley's team, as losses in group play to Italy and Brazil left the United States embarrassed. After it looked like they were going to be eliminated, I wrote this: The larger picture though is how will the U.S. use this experience to help them come 2010? They do have a year to figure it out, but judging by this tournament and the disappointing loss to Costa Rica a few weeks back, one year may not be enough.
Turns out all the United States needed was one week, and a couple of lucky breaks. Beating Egypt 3-0 proved that they were no fluke, and having Brazil beat Italy gave America a second life. The U.S. went from going home with an overall subpar performance, to gaining a couple of extra competitions against some of the world's best. The 2-0 win against Spain sent shockwaves through the soccer world, and their 2nd-place finish is proof that the United States will be a contender in next year's World Cup.
Despite the loss, it's probably the most optimistic a team has to feel after a loss since the New York Giants almost stopped the New England Patriots from going 16-0. This loss, and this tournament, showed the world that it shouldn't expect the same old America in South Africa next season. I don't think that the United States will win the World Cup next year, but now I know that they can. With their experience, their new familiarity with the South African venues, and their overall play, the United States is a legit contender to capture the trophy next year, and they have to walk away encouraged about that.
What a difference a week makes.