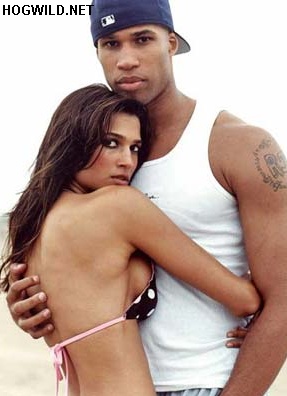 If nothing else, the latest Bucks trade is another reason for us to use our favorite Richard Jefferson picture. You know, I was pretty hard on GM John Hammond when he couldn't move Jefferson at the trade deadline last season, but Hammond finally came through and moved his
$15 million contract to the San Antonio Spurs today
. In return, the Bucks will receive Bruce Bowen, Kurt Thomas, and Fabricio Oberto.
I wouldn't get too excited about the players received however, Bucks fans, as this seems to be a contract-clearing move. All three players are in the last year of their contracts, and Bowen and Oberto only have $2 million and $1.9 million guaranteed to them next season, respectively, so it's likely the Bucks will just outright release the both of them.
By then hanging on to Thomas, the Bucks will have saved a cool $6.35 million for next season. This extra room will help keep them under the dreaded luxury tax threshold, as well as clear up some room to re-sign either Sessions or Villanueva. At this point, even though many reports have the Bucks drafting a point guard on Thursday night, I think Sessions is the guy that would likely re-sign if it came down to just one of the two. Still, it's looking good that the Bucks will keep at least one of these guys.
As for Jefferson, he was a great addition to this Bucks team, it's just that he cost so damn much. Jefferson started all 82 games for Milwaukee last season, and at times was the Bucks only legitimate scoring threat. He stepped up when both Bogut and Redd were out with injuries, and he was a much better fit on this team than the Yi/Simmons combo was, the two guys he was traded for last off-season. Jefferson should thrive with the Spurs next year, and this is a move that should help the future of both clubs.
Sad to see him go, but thankful that contract is gone.